Serves: 4
Prep: 25 minutes Cook: 8 minutes
Air Fryer Salmon with Maple Dijon Sauce
Flaky and flavorful, the air fryer is a super fast and easy way to cook salmon to tender perfection. This recipe is extra delicious with a sweet and savory maple dijon glaze.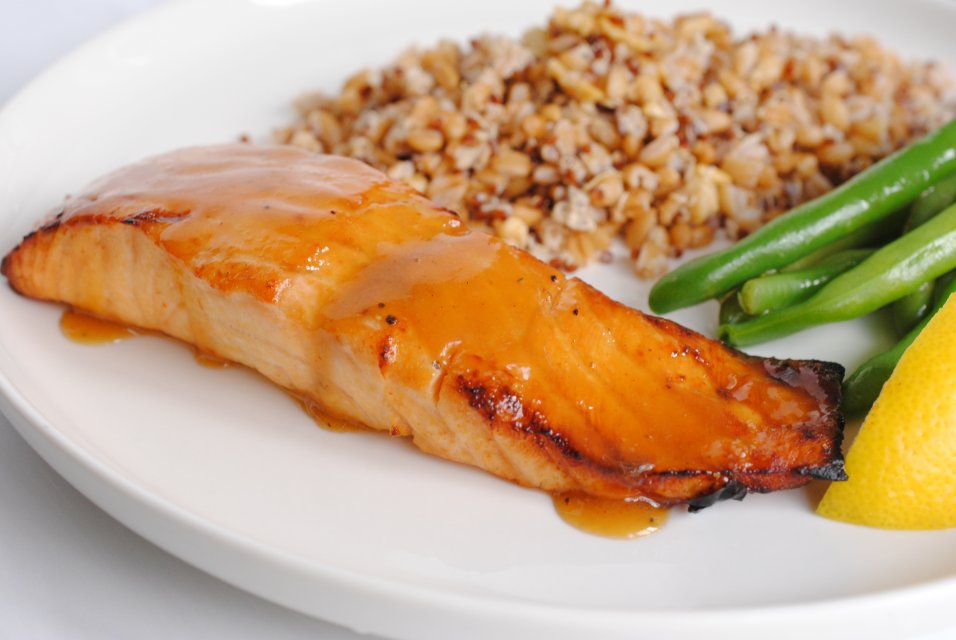 Directions
Preheat an air fryer to 400 degrees F.
Combine the maple syrup, dijon, lemon juice, olive oil, garlic, salt and pepper in a medium bowl and whisk until well combined. Add salmon to the marinade, coating each side, and marinate for 20 minutes.
Lightly spray the air fryer basket with olive oil or cooking spray. Remove the salmon from the marinade, reserving the marinade. Add the salmon filets to the fryer basket making sure there is room around each piece. You may need to cook two batches if your air fryer basket is small. Cook for 6 to 7 minutes or until salmon is cooked through and flakes with a fork.
Add the butter to a small sauce pan and heat over medium high heat. Add the remaining marinade and simmer for 2-3 minutes or until the sauce is heated through and thickened. Drizzle the sauce over the salmon before serving.
Ingredients
4 6-oz salmon filets
3 Tbsp maple syrup
1.5 Tbsp dijon mustard
2 Tbsp lemon juice
1 Tbsp olive oil
2 tsp minced garlic
1/4 tsp salt
1/4 tsp black pepper
1/2 tsp Sriracha sauce (optional)
1 tsp butter
Nutrition Information
Calories: 416
Protein: 35 g
Carbohydrate: 7 g
Dietary Fiber: 0 g
Total Sugars: 6 g
Total Fat: 26 g
Saturated Fat: 5 g
Sodium: 350 mg

Simply seasoned and grilled. Flaked in a creamy pasta. Marinated with a little heat.
This versatile fish is a chef's dream.