Serves: 4
Prep: 20 minutes Cook: 40 minutes
Blackened Salmon Mediterranean Bowl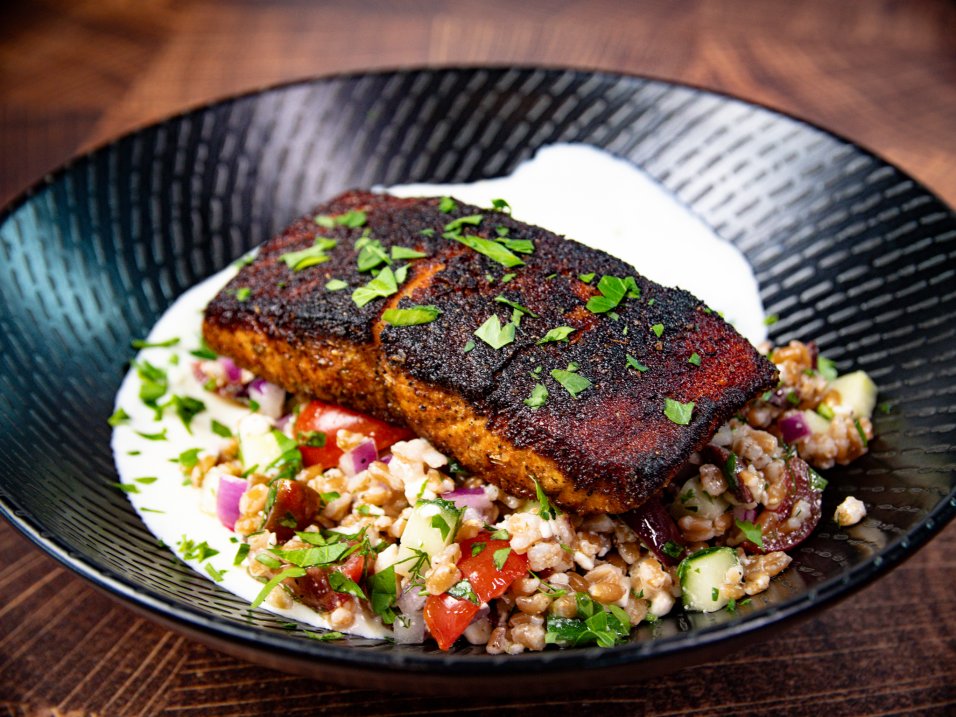 Directions
Make the blackening spice by combining smoked paprika, cayenne, onion powder, garlic powder, oregano, black pepper, and salt. Set aside.
Make the yogurt sauce by combining Greek yogurt, ¼ Cup EVOO, and the juice and zest from a lemon. Combine remaining EVOO and lemon juice to make a lemon vinaigrette.
Add the farro to 1 quart of boiling water and let cook for 30 minutes, until the grains are tender. Drain and let cool.
Combine the cut cherry tomatoes, olives, red onion, cucumber, herbs, feta cheese and farro. Toss with lemon vinaigrette to incorporate.
Dust the salmon fillets with blackening spice and pan sear on both sides until the temperature reaches 145F and a dark crust has been formed.
To serve, spoon lemon yogurt on bottom of bowl. Top with farro mixture and blackened salmon. Garnish with parsley. Enjoy!
Ingredients
4, 6 oz portions AquaBounty salmon fillets (skin off)
2 Tbsp smoked paprika
1 Tbsp cayenne
1 Tbsp onion powder
2 tsp granulated garlic
1 tsp oregano, dried
1 tsp black pepper
2 tsp kosher salt
1 cup Greek yogurt
1 cup extra virgin olive oil
3 each lemons, juice and zest
2 tsp red wine vinegar
1 cup farro
2 Tbsp parsley, chopped
1 Tbsp dill, chopped
1/2 cup feta cheese, crumbled
1 cup cherry tomatoes, quartered
1/2 cup Kalamata olives, quartered
1/2 cup red onion, diced
1/2 cup cucumber, diced
1 tsp black pepper
1 Tbsp kosher salt

Simply seasoned and grilled. Flaked in a creamy pasta. Marinated with a little heat.
This versatile fish is a chef's dream.