Serves: 4
Prep: 10 minutes Cook: 15 minutes
Brown Sugar Roasted Salmon with Maple-Mustard Sauce
Bursting with flavor this sweet and savory roasted salmon is a real crowd pleaser. The brown sugar caramelizes into a candied crust and the sweet mustard sauce adds extra moisture and flavor.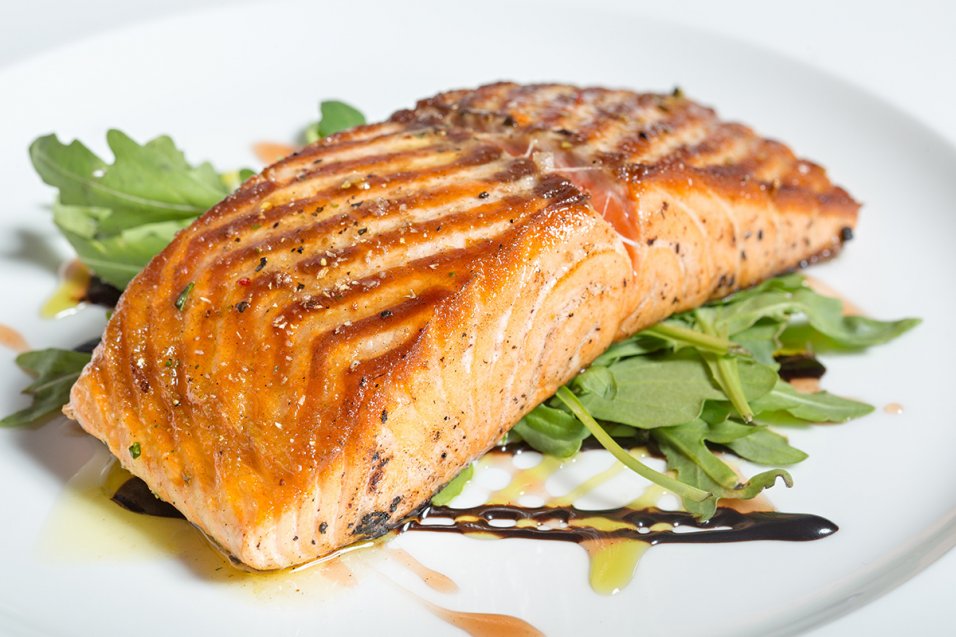 Directions
Preheat oven to 400 degrees. Line a baking dish or sheet pan with parchment paper.
In a small bowl combine brown sugar, olive oil, lime juice, and garlic.
Place the salmon on the baking sheet. Season with salt and pepper. Spread the brown sugar mixture over the top and sides of salmon fillets so all exposed surfaces are coated. Let sit for 10 minutes.
Roast salmon for 12-15 minutes or until cooked through and flaked easily with a fork. If desired, broil on high for 1-2 minutes at the end of cooking to let brown sugar caramelize further.
While salmon is roasting whisk maple syrup, mustard, olive oil, and garlic powder together.
Serve salmon over greens and drizzle with maple mustard sauce (for the sauce; combine pure maple syrup, dijon mustard, 1 Tbsp olive oil, and garlic powder). Garnish with parsley or cilantro as desired.
Ingredients
2 Tbsp brown sugar
2 1/2 Tbsp olive oil
1 Tbsp lime juice
1 tsp garlic, chopped
20 oz salmon (4, 5-oz fillets)
1/2 tsp salt
1/4 tsp black pepper
Garnish parsley or cilantro
2 Tbsp pure maple syrup
2 Tbsp dijon mustard
1/4 tsp garlic powder
Nutrition Information
(Per serving)
Calories: 431
Protein: 29 g
Carbohydrate: 14 g
Dietary Fiber: 0 g
Total Sugars: 13 g
Total Fat: 27 g
Saturated Fat: 5.5 g
Total Omega-3 FA: 3.9 g
Sodium: 399 mg

Simply seasoned and grilled. Flaked in a creamy pasta. Marinated with a little heat.
This versatile fish is a chef's dream.