Serves: 4
Prep: 10 minutes (not including plank soaking time) Cook: 20 minutes
Cedar Plank Salmon with Lemon & Cayenne
A grilled cedar-planked salmon has a delightfully smoky flavor, never sticks to the grill and makes cleanup a breeze. The lemon zest and cayenne add a flavorful zing you will love.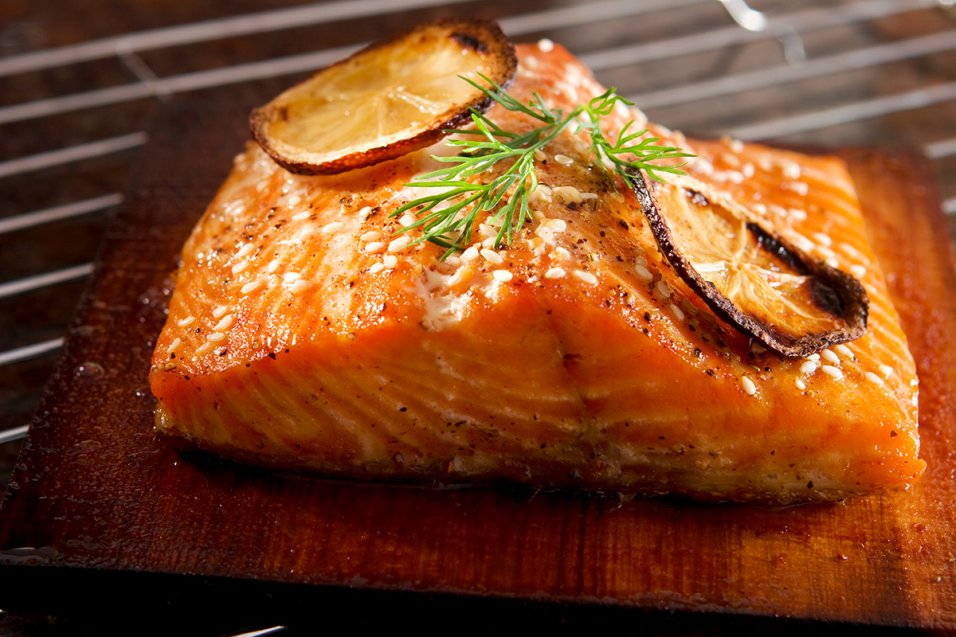 Directions
Soak the cedar planks in water for at least one hour. Drain.
In a small bowl, combine the lemon zest, sugar, salt and cayenne.
Coat the fillets on both sides with olive oil, and place skin side down on the planks. Rub the spice mixture onto the top of each salmon fillet. Lay a lemon slice on top of each portion.
Heat a barbecue grill to high heat, then reduce the heat to medium. Place planks on coolest side of grill and close the grill lid. Cook until 15-20 minutes until salmon is cooked through and flakes easily with a fork. Remove from heat and let the salmon rest on the planks 5 minutes before serving. Garnish with fresh dill.
Ingredients
1-2 cedar planks
1 Tbsp lemon zest
1-1/2 tsp sugar
1-1/2 tsp salt
1/2 tsp cayenne
20 oz salmon (4, 5-oz fillets) skin-on
1 Tbsp olive oil
4 lemon slices
4 dill sprigs, fresh
Nutrition Information
(Per Serving)
Calories: 330
Protein: 29 g
Carbohydrate: 1.5 g
Dietary Fiber: 0 g
Total Sugars: 1 g
Total Fat: 22 g
Saturated Fat: 4.5 g
Total Omega-3 FA: 3.8 g
Sodium: 665 mg

Simply seasoned and grilled. Flaked in a creamy pasta. Marinated with a little heat.
This versatile fish is a chef's dream.