Serves: 2
Prep: 20 minutes Cook: 20 mintes
Chile Lime Salmon with Elote-Style Corn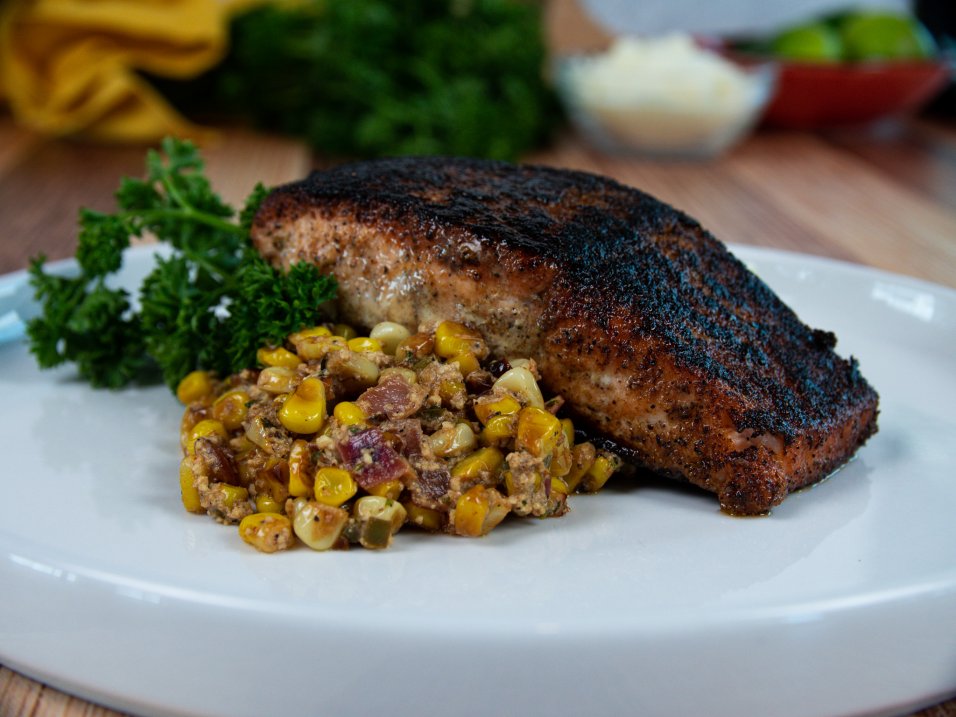 Directions
Make the spice blend. Mix chili powder, garlic powder, cumin, salt, black pepper, and lime zest in a small bowl.
Pat salmon dry with paper towels, then dust with spice blend on all sides. Rest for 10 minutes.
Heat a large sauté pan over medium high heat. Add in olive oil and bring to temperature.
Place seasoned salmon in pan, dropping away from you to avoid oil splatters. Let cook for 3-4 minutes. Gently flip with tongs once a crust has formed.
Continue cooking until the thickest part of the fish registers 145F, lowering the heat if needed to prevent burning of spices. Once cooked, remove from pan and reserve.
In the same pan, turn the heat to high, melt butter, and add corn. Sauté for 2 minutes.
Add in jalapeno and red onion, cook for 4 minutes, stirring occasionally to soften. Add garlic and cook until aromatic. Turn off heat.
Mix in Greek yogurt, lime juice, chili powder, salt, and pepper. Taste and adjust seasoning, as needed. To finish, toss with cotija cheese.
To plate, serve corn as a base for the salmon. Garnish with lime wedges. Enjoy!
Ingredients
2 6 oz portions, 12 oz AquaBounty salmon fillets, skin off
1 tsp chili powder
1 tsp garlic powder
1/2 tsp cumin, ground
1 each lime zest
1/2 tsp kosher salt
1/4 tsp black pepper
1 Tbsp olive oil
2 Tbsp butter, unsalted
2 cups corn, frozen or fresh
1 Tbsp garlic, minced
1/4 cup jalapeno, diced
1/2 cup red onion, small diced
3 Tbsp Greek yogurt, plain
2 each limes, juiced
1/4 cup cotija cheese
1 tsp chili powder
2 tsp kosher salt
1/2 tsp black pepper

Simply seasoned and grilled. Flaked in a creamy pasta. Marinated with a little heat.
This versatile fish is a chef's dream.