Serves: 2
Prep: 10 minutes Cook: 25 minutes
Chili Maple Salmon with Goat Cheese Cauliflower Mash
Salmon is the ideal Valentine's day protein– it has a rich flavor, is loaded with heart healthy omega 3 fatty acids, and isn't fussy to prepare. What better way to show your loved one how much you care than by crafting a meal that is both delicious and healthful.
This salmon dish is sweet and a little spicy – the perfect Valentine's day combo. It's flavorful yet light enough so that you won't feel too full after the main meal, leaving plenty of room for dessert! The tanginess of the cauliflower mash complements the sweetness and spiciness of the salmon well.
If you're looking to enjoy wine with this dish, pair it with a full-bodied white such as an oak-aged Chardonnay.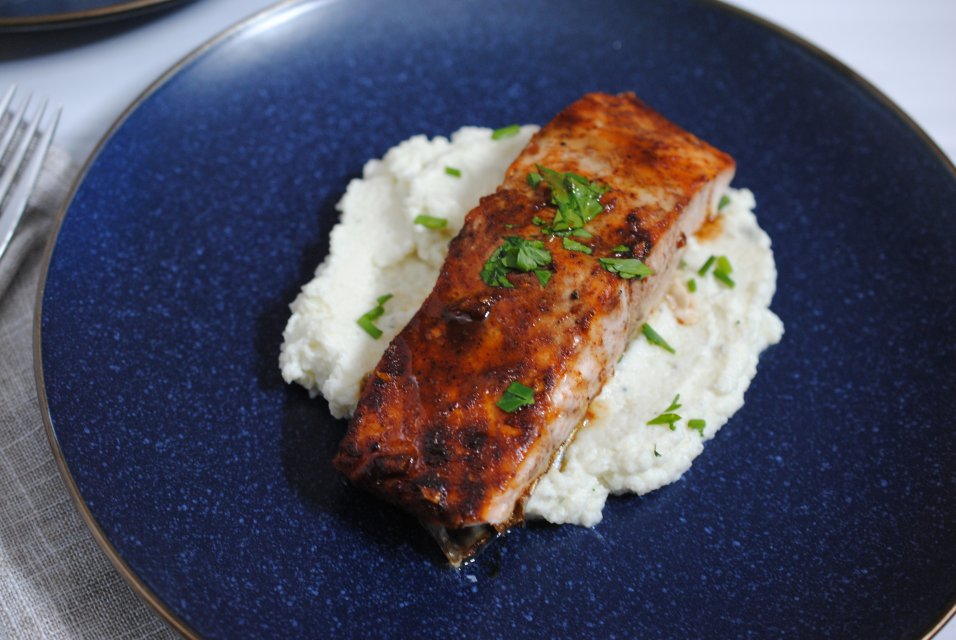 Directions
Preheat the oven to 375 degrees F. Line a baking sheet with parchment or aluminum foil. In a small bowl mix the maple syrup, soy sauce, chili powder, dijon mustard, paprika, cayenne, and garlic together. Brush the maple syrup mixture evenly over the salmon, reserving a little for drizzling after cooking. Let the fish marinade for 10 minutes. Bake for 15 minutes or until the fish flakes easily with a fork.
While the fish is cooking, steam the cauliflower florets until fork tender, drain well, then transfer to a food processor. Add the goat cheese, Greek yogurt, garlic powder, salt and pepper. Process until smooth. Add additional salt and pepper to taste. Garnish with chives.
Serve the salmon over top or alongside the cauliflower mash.
Ingredients
2 filets 12 oz salmon
1 tbsp maple syrup
2 tsp soy sauce
1 tsp chili powder
1 tsp dijon mustard
1 tsp finely chopped garlic
½ tsp paprika
Dash cayenne (optional)
Parsley optional garnish
1 large head of cauliflower cut into florets
2 oz herbed goat cheese
4 oz 2% plain greek yogurt
½ tsp garlic powder
½ tsp sea salt
Fresh black pepper to taste
Fresh chives chopped, for garnish
Nutrition Information
Calories: 604
Protein: 53 g
Carbohydrate: 25 g
Dietary Fiber: 7 g
Total Sugars: 18 g
Total Fat: 32 g
Saturated Fat: 10 g
Sodium: 850 mg

Simply seasoned and grilled. Flaked in a creamy pasta. Marinated with a little heat.
This versatile fish is a chef's dream.