Serves: 20 appetizer portions
Prep: 35 minutes Cook: 10 minutes
Cider & Soy Glazed Air-Fryer Salmon Bites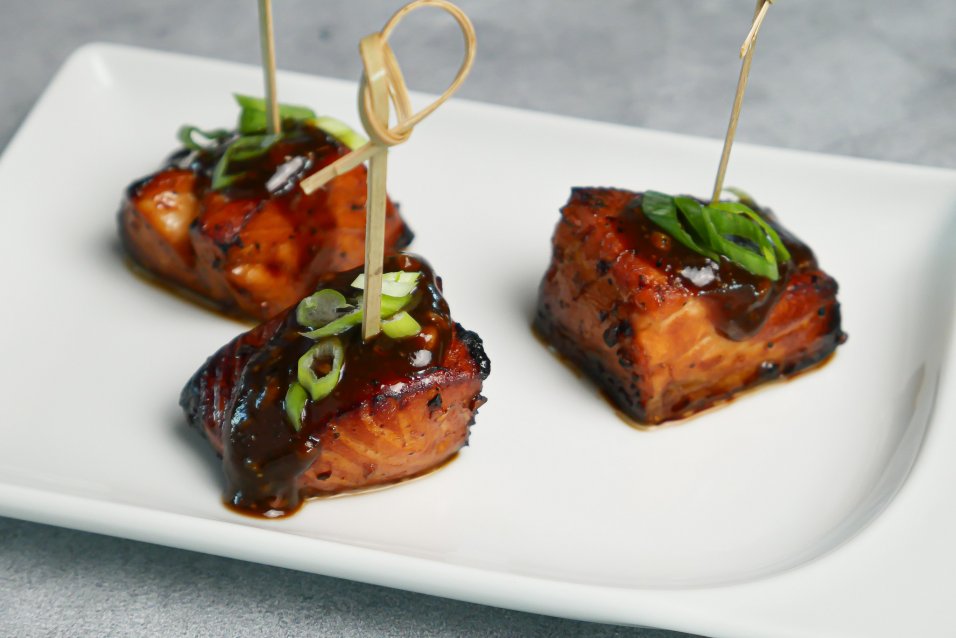 Directions
In a large bowl, combine reduced apple cider, soy sauce, sriracha, garlic, ginger, lemon juice, salt, and black pepper to make the marinade. Add in diced Salmon pieces & let it sit in the refrigerator for 30 minutes.
Once marinated, place salmon pieces on a paper towel lined sheet, then transfer into an air fryer basket. Cook at 375F for 10 minutes, or until the temperature reaches 145F and the outside is crisped. Remove from basket.
Boil left over marinade and combine with a mixture of equal parts cornstarch and water to thicken sauce.
Dot salmon pieces with remaining sauce and skewer.
Garnish with scallions. Enjoy!
Ingredients
2, 6 oz portions AquaBounty salmon fillets (skin off), diced into 1" pieces
1/2 cup apple cider, reduced by half
1/2 cup soy sauce
1 Tsbp sriracha
1 Tbsp garlic, minced
1/2 tsp ginger, ground
2 Tbsp lemon juice
1 tsp kosher salt
1.2 tsp black pepper
2 tsp cornstarch
2 tsp water
2 Tbsp scallions, bias cut

Simply seasoned and grilled. Flaked in a creamy pasta. Marinated with a little heat.
This versatile fish is a chef's dream.