Serves: 4-6
Prep: 10 minutes Cook: 35 minutes
Citrus Garlic & Herb Salmon with Cara Cara Oranges and Lemon
We love how citrus offers bright flavors and colors in the cold and sometimes dark winter months. In this recipe, pink fleshed and extra sweet and Cara Cara oranges pair with lots of fresh herbs, spices, and garlic to make you feel like you're on that Mediterranean vacation you've been dreaming of, in the dead of winter. Slow roasting the salmon in olive oil helps to maximize the tenderness of salmon's already tender flesh and almost guarantees it won't be dried out. It's a beautiful dish to serve for guests but its easy assembly makes it great for a weeknight too.
In addition to a yummy meal, you'll get the immune boosting benefits of vitamin D rich salmon, a nutrient most people don't get enough of during the winter months. Plus, citrus adds additional vitamin C to help keep your immune system up to snuff during cold & flu season.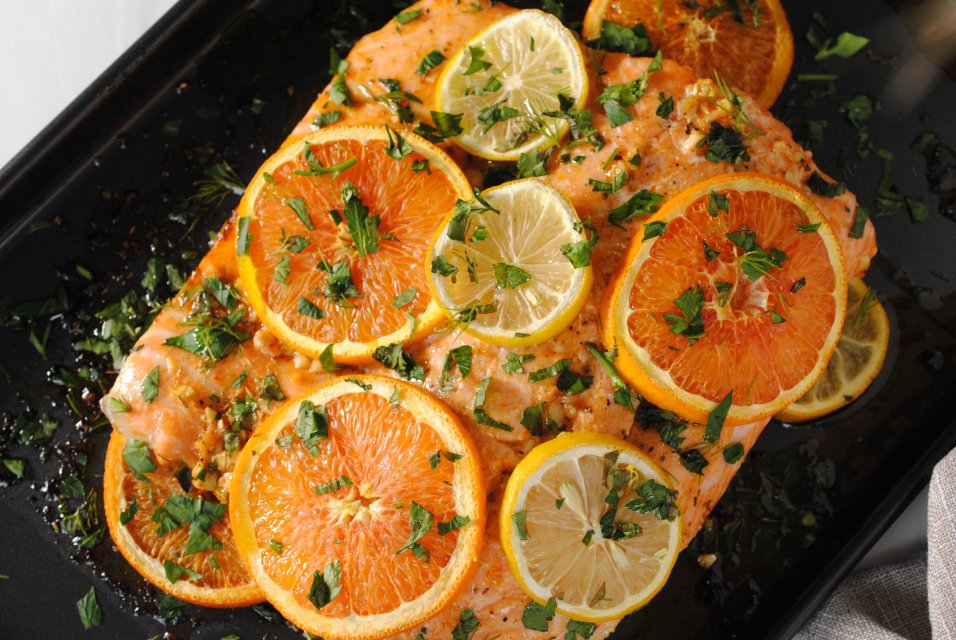 Directions
Preheat an oven to 275 degrees F. Line a baking sheet with parchment paper. Drizzle 1 tablespoon of the olive oil over the bottom of rimmed baking sheet or dish and arrange about half of the lemon and Cara Cara orange slices on the bottom. Pat the salmon dry and rub with salt and pepper.
Combine the remaining olive oil, lemon zest, orange juice, garlic, dried oregano, paprika, and red pepper flakes, and whisk together until combined. Lay the salmon filet on the baking sheet and pour the mixture over the salmon, rubbing it in until coated well. Layer the remaining citrus over the top of the salmon.
Bake salmon until cooked through, about 30 - 40 minutes depending on the thickness of the filet. Salmon will flake easily with a fork when cooked, however, flesh may still be very slightly opaque.
Garnish with fresh chopped herbs.
Ingredients
1.5 - 2 lb center cut salmon filet
1/4 cup olive oil
2 Cara Cara oranges, sliced (naval or another type of orange works too)
1 lemon, sliced
1/2 teaspoon kosher salt
1/4 teaspoon black pepper
1 tablespoon lemon juice
2 tablespoons orange juice
2 large (3 small) garlic cloves, minced
1/2 teaspoon dried oregano
1/2 teaspoon paprika
1/4 teaspoon red pepper flakes
2 tablespoons chopped fresh parsley
2 tablespoons chopped fresh dill
2 tablespoons chopped fresh mint
Nutrition Information
Calories: 420
Protein: 35 g
Carbohydrate: 5 g
Dietary Fiber: 1 g
Total Sugars: 6 g
Total Fat: 25 g
Saturated Fat: 5 g
Sodium: 380 mg

Simply seasoned and grilled. Flaked in a creamy pasta. Marinated with a little heat.
This versatile fish is a chef's dream.