Serves: 4 for an appetizer and 2 for a main (makes 6 patties)
Prep: 10 minutes Cook: 5-7 minutes
Crispy Herbed Salmon Patties with Yogurt Dill Sauce
The perfect spring lunch or light dinner, these patties are so crispy and flavorful and just the right meal for this warmer al fresco dining weather. They're made with fresh salmon versus canned and an abundance of fresh herbs, which creates a lighter and crispier texture. Serve these over fresh arugula drizzled with the creamy yogurt sauce for a delicious spring meal.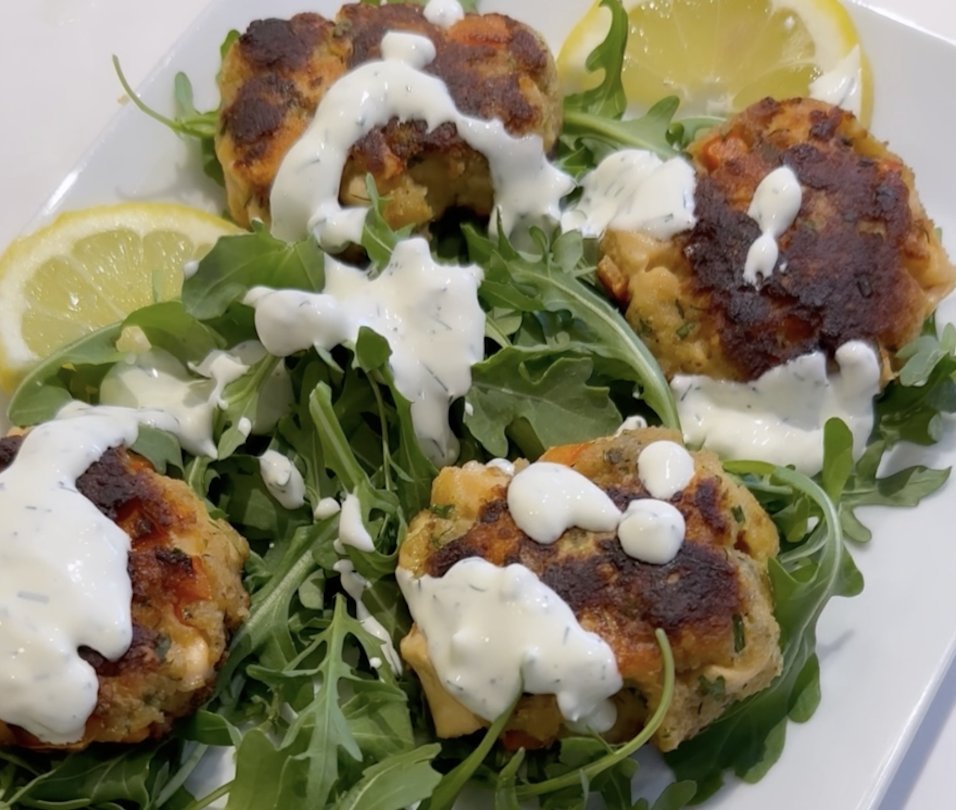 Directions
For the salmon patties: Add the egg, salmon, bread crumbs, pepper, mayo, garlic, chives, dill, parsley, dijon, salt, and pepper. Mix everything together with a fork or your hands until the all ingredients are combined.
Heat the avocado oil in a large skillet over medium high heat.
Form the mixture into patties about 2-inches inches in diameter and 1/2-inch thick. Working in batches add three to four patties to the skillet at a time, depending on the size of your skillet. Cook the patties until golden brown, then flip to the other side, about 3-5 minutes each side. Be careful not to flip too early or the patties might come apart. Lay the patties on a plate lined with paper towel.
Whisk the yogurt sauce ingredients together in a small bowl and use to drizzle over the patties or as a dipping sauce. These patties are delicious served over a bed of arugula.
Ingredients
1 large egg
8 ounces fresh skinless salmon, chopped
1/2 cup breadcrumbs
1/2 cup chopped red bell pepper
2-3 Tbsp mayonnaise
1 garlic clove, pressed or minced
2 Tbsp fresh chives
1Tbsp chopped fresh dill
1 Tbsp chopped parsley
1 Tbsp dijon mustard
1/2 tsp salt
1/4 tsp freshly ground black pepper
3 Tbsp avocado oil
1/4 cup mayonnaise
1/4 cup 2% Greek yogurt
2 Tbsp chopped fresh dill
2 Tbsp chopped parsley
1/2 tsp dried dill
1 garlic clove, minced
1/4 tsp salt
Nutrition Information
(per two patties)
Calories: 445
Protein: 23g
Carbohydrate: 12g
Total Fat: 33g
Saturated Fat: 6g
Sodium: 657mg
Sugar: 28g

Simply seasoned and grilled. Flaked in a creamy pasta. Marinated with a little heat.
This versatile fish is a chef's dream.