Serves: 4
Prep: 15 minutes Cook: 20 minutes
Crispy Honey Orange Glazed Salmon with Scallion Rice
This sauce is so balanced and delicious it will turn salmon skeptics into salmon lovers. You'll be adding this family-friendly salmon recipe to the dinner rotation regularly!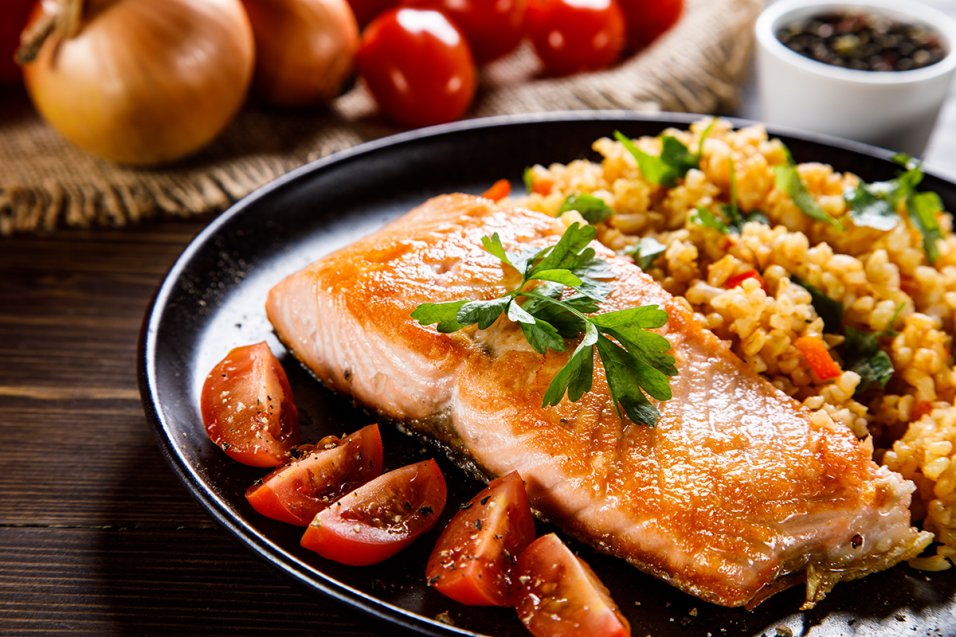 Directions
In a medium sauce pot, heat 1 teaspoon olive oil on medium high until hot. Add the white parts of the scallions and garlic, cooking for 2 minutes until fragrant. Add rice and stir to combine. Add water according package directions for the type of rice you're using. Cook until tender. Toss with the green part of the scallions. Add salt and pepper to taste.
In a small bowl, whisk orange juice, zest, honey, garlic and soy sauce until honey is incorporated. Set aside.
Pat salmon fillets dry with a paper towel and season the flesh with salt and pepper.
Heat 2 tablespoons olive oil in a medium skillet over medium high heat for 1 minute until oil is hot but not smoking. Place salmon fillets skin side up in the pan and cook for 3-4 minutes or until a golden crust forms and flesh easily releases from the pan. Flip fish and cook for an additional 2 minutes. Remove fish from pan and set aside.
Add the orange juice mixture to the pan. Bring to a boil and cook until reduced by about half, stirring occasionally, about 4 to 5 minutes. Add salmon fillets back to the pan and brush sauce over the top to coat. If you need to thin the sauce, add a tablespoon of warm water and stir while over low heat. Sauce will thicken upon cooling.
Serve salmon with scallion rice and sliced tomatoes sprinkled with salt and black pepper.
Ingredients
1 cup white or brown rice
1 scallion, sliced, white and green parts
1 clove garlic, minced
3 Tbsp olive oil, divided
1 20 oz salmon (4, 5-oz fillets)
1 tsp salt
1/4 tsp ground black pepper
1/2 cup fresh orange juice (about 1/2 an orange)
1 tsp orange zest
3 tbsp honey
1 tbsp minced garlic
1 tsp minced fresh ginger
1 tbsp low-sodium soy sauce or tamari (for gluten free version)
2 cups sliced tomatoes
Nutrition Information
(Per serving)
Calories: 639
Protein: 34g
Carbohydrate: 56g
Dietary Fiber: 3g
Total Sugars: 18g
Total Fat: 30g
Saturated Fat: 6g
Total Omega-3 FA: 3.9g
Sodium: 296mg

Simply seasoned and grilled. Flaked in a creamy pasta. Marinated with a little heat.
This versatile fish is a chef's dream.