Serves: 4
Prep: 15 minutes Cook: 25 minutes
Donburi Rice Bowl with Toasted Sesame Teriyaki Salmon
Salmon Teriyaki Donburi bowl is a classic favorite, especially when adorned with fresh, colorful vegetables and sweet, melt-in-your mouth salmon. Even better when it is a quick, easy meal with a variety of textures and flavors!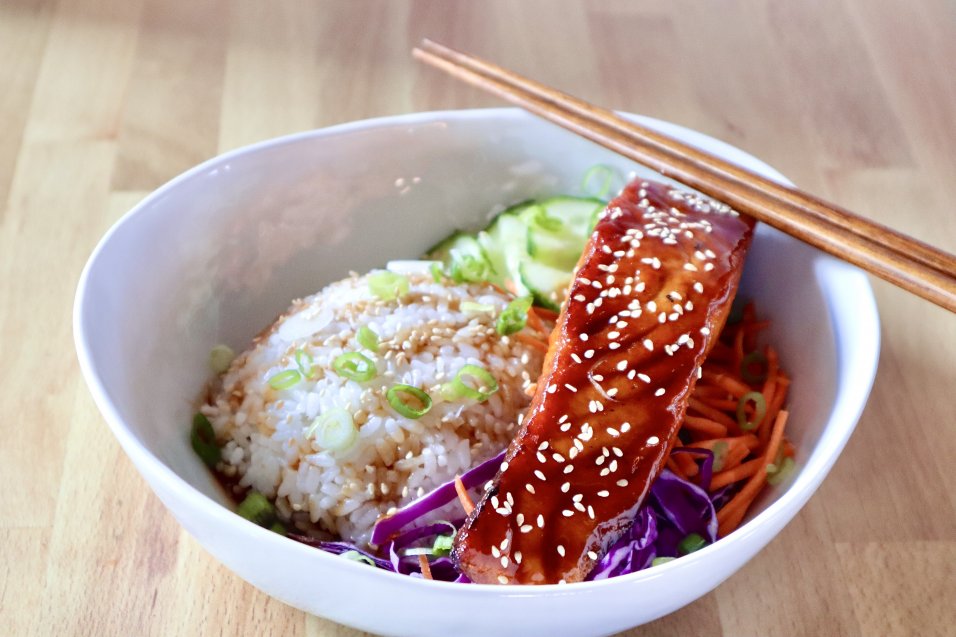 Directions
In a medium sized saucepan over medium high heat whisk together soy sauce, sesame rice vinegar and brown sugar and bring to a simmer.
In a small bowl whisk together the water and cornstarch. Slowly whisk into the saucepan. Whisk the sauce constantly until it starts to thicken.
Remove from heat and cool.
In a large pan over high heat, add canola oil. Place AquaBounty Salmon, skin side down and sear until skin is crispy, approximately 3 minutes. 
Flip AquaBounty Salmon and cook for another 3 minutes until crispy and golden brown. Repeat on all sides of the AquaBounty Salmon
Remove AquaBounty Salmon from the pan and glaze with the teriyaki sauce. 
Serve over rice with cucumbers, red cabbage and carrots. Garnish with sliced scallions and a drizzle of teriyaki sauce.
Ingredients
1 cup soy sauce, less sodium
1/4 cup toasted sesame rice vinegar
1/2 cup brown sugar
1/4 cup water
3 tablespoons cornstarch
4 each AquaBounty salmon, filets
1 tablespoon canola oil
2 cups white rice, cooked
1/2 cup cucumbers, sliced
1 cup red cabbage, thinly sliced
1/2 cup carrots, shredded
2 each scallions, thinly sliced
Nutrition Information
Total Fat: 17g
Saturated Fat: 3.5g
Trans Fat: 0g
Cholesterol: 60mg
Sodium: 580mg
Total Carbohydrate: 25g
Dietary Fiber: 2g
Total Sugars: 7g
Protein: 24g
Vitamin D: 12mcg
Calcium: 31mg
Iron: 1mg
Potassium: 485mg

Simply seasoned and grilled. Flaked in a creamy pasta. Marinated with a little heat.
This versatile fish is a chef's dream.