Serves: 4
Prep: 10 minutes Cook: 15 minutes
Eggs Benedict with Salmon
If you want to wow a brunch guest, this extra special Eggs Benedict with fresh salmon will do the trick.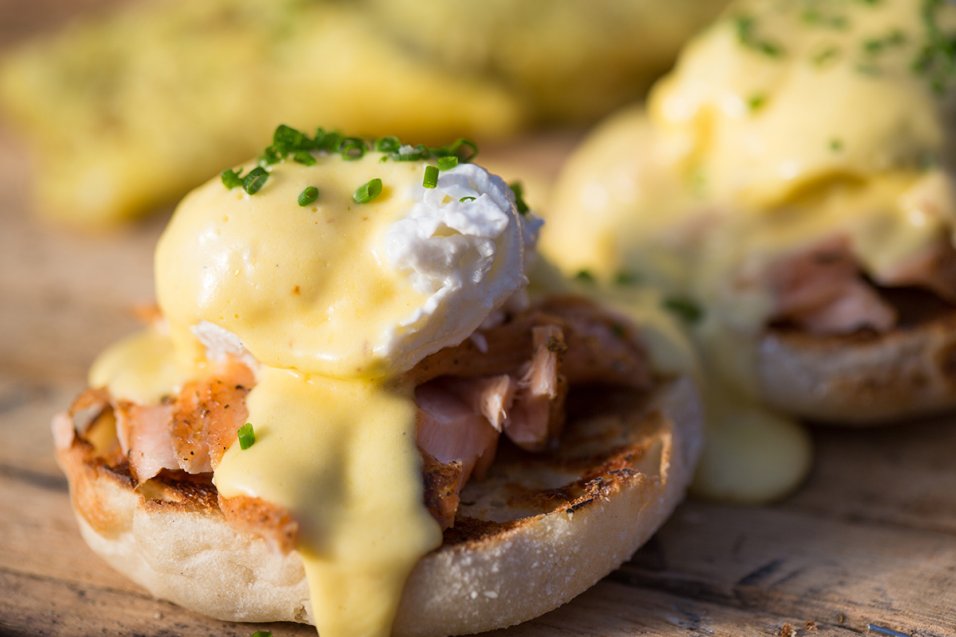 Directions
Make the hollandaise. Whisk the egg yolks in a stainless-steel bowl set above a pot of simmering water. Note that the water should not be touching the bottom of the bowl. Whisk until yolks are fluffy and about double in size. Slowly whisk in melted butter until the sauce has thickened. Remove from heat and whisk in lemon juice, zest, salt (1/2 tsp) and pepper (1/4 tsp). If the sauce needs to be thinned, whisk in 1 teaspoon warm water. Cover and keep warm until ready to drizzle over eggs.
Prepare salmon. Heat olive oil over a medium saucepan over medium high heat until hot. Pat salmon dry and sprinkle with salt (1/4 tsp) and pepper (1/4 tsp). Place salmon fillets skin side up in the pan and cook for 3-4 minutes or until a golden crust forms and flesh easily releases from the pan. Flip fish and cook for an additional 2 minutes. Remove fish from pan and set aside.
Poach the eggs. Fill a medium saucepan two thirds full water and add the vinegar. Bring the water to a simmer. With a large spoon stir the water in a circular motion to form a whirlpool. Crack each egg into the whirlpool and cook for 3-4 minutes. You will need to cook the eggs in batches of 2-3 eggs at a time. Remove each egg with a slotted spoon and place on a plate lined with paper towel to absorb excess water.
Toast English muffins and spread each with a little butter or brush with olive oil. Flake salmon with a fork to break it up a bit. Top each English muffin half with a portion of salmon, then top with a poached egg. Drizzle with hollandaise and top with chives.
Ingredients
8 oz salmon fillet
1 Tbsp olive oil
3/4 tsp kosher salt
1/2 tsp ground black pepper
8 large eggs, cold
2 Tbsp white wine vinegar
4 large English muffins
2 Tbsp chopped chives
3 large egg yolks
1 stick (8 Tbsp) melted butter
1 Tbsp lemon fresh lemon juice
1 tsp lemon zest
Nutrition Information
(Per serving)
Calories: 670
Protein: 32 g
Carbohydrate: 28 g
Dietary Fiber: 4.5 g
Total Sugars: 6 g
Total Fat: 48 g
Saturated Fat: 21 g
Total Omega-3 FA: 1.8 g
Sodium: 633 mg

Simply seasoned and grilled. Flaked in a creamy pasta. Marinated with a little heat.
This versatile fish is a chef's dream.