Serves: 4-6
Prep: 30 minutes Cook: 20 minutes
Fettuccine with Salmon in a Basil-Dill Cream Sauce
Enjoy this tasty fettuccine bursting with flavors of fresh dill and basil. Creamy, but not overly heavy, the white wine balances and blends the freshness of the simple ingredients.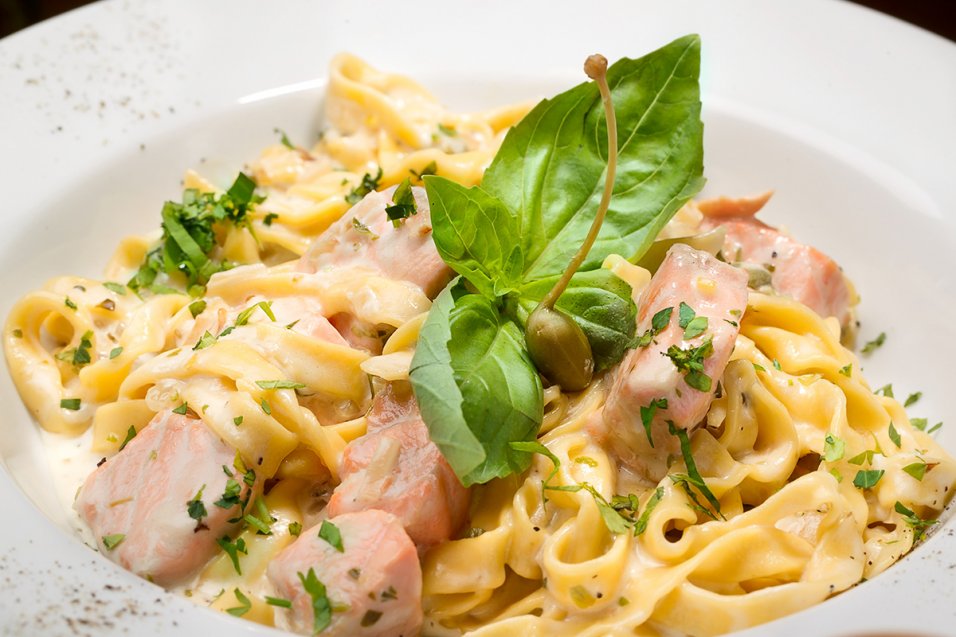 Directions
Place salmon on a foil lined sheet pan that has been coated with non-stick spray. Brush with the olive oil and season with salt and pepper. Bake 15-20 minutes until salmon flakes easily. Remove from oven and flake into bite-sized pieces. Set aside.
Cook noodles according to package instructions. Drain, reserving ½ cup of cooking water.
In a large skillet, melt butter over medium heat. Add garlic and cook until just fragrant. Add wine and bring to a simmer for 1 minute. Add cream and cream cheese, stirring frequently until melted and well combined. If sauce is thick, stir in some of the reserved pasta water until desired consistency is reached. Add salmon and cooked pasta to the pan and stir to coat. Stir in chopped dill and basil. Season with salt and pepper.
Divide into serving dishes and garnish with additional dill and basil if desired.
Ingredients
12 oz salmon fillet, bones and skin removed.
1 tsp olive oil
1 lb fettuccine noodles, dry
2 Tbsp butter
2 cloves garlic, minced
1/4 cup white wine
1 cup heavy cream
2 oz cream cheese, softened
2 Tbsp dill, fresh, chopped
2 Tbsp basil, fresh, chopped
Nutrition Information
Calories: 617
Protein: 23 g
Carbohydrate: 59 g
Dietary Fiber: 2.5 g
Total Sugars: 2 g
Total Fat: 31 g
Saturated Fat : 15 g
Total Omega-3 FA: 2 g
Sodium: 85 mg

Simply seasoned and grilled. Flaked in a creamy pasta. Marinated with a little heat.
This versatile fish is a chef's dream.