Serves: 4 (8 kabobs)
Prep: 15 minutes Cook: 25 minutes
Grilled Mediterranean Salmon Skewers
Perfect for a summer evening dining Al Fresco or a special BBQ, these salmon kabobs are marinated in a Mediterranean style dressing and grilled to perfection with tender veggies and topped with a cool tzatziki sauce.
We paired the salmon with vegetables that take about the same amount of time to grill as the salmon so nothing is over or under-cooked. This recipe can be prepared indoors on a grill pan or electric grill if you don't have an outdoor grill.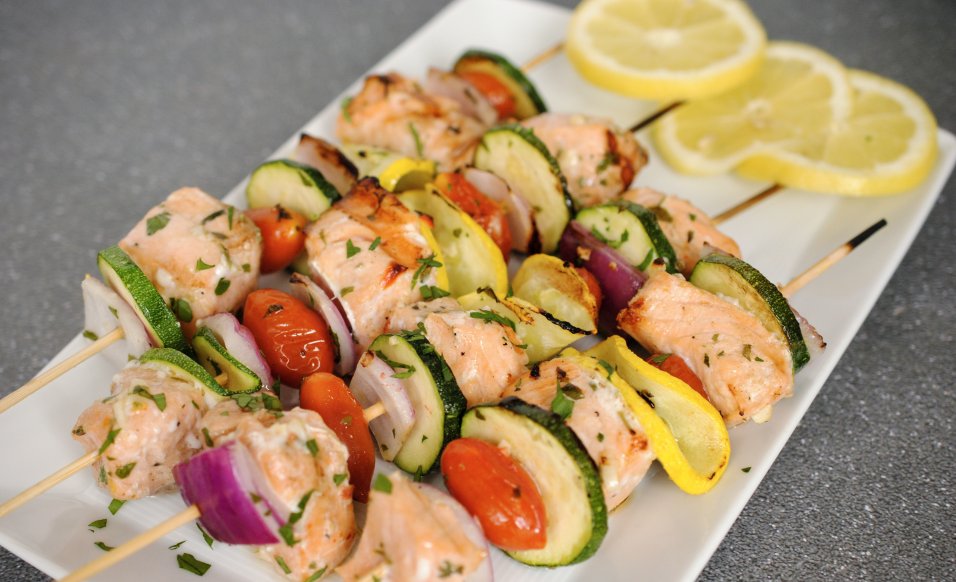 Directions
Mix the marinade ingredients together (first 8 ingredients) in a large bowl or zip top bag. Add the salmon and cut vegetables and marinate for 20 minutes.
Heat an outdoor grill on medium heat.
Thread the pieces of salmon, zucchini, onion, and tomatoes on the skewers in an alternating fashion. If using wooden skewers, be sure to soak them prior to grilling.
Spray the grill with cooking spray or rub with olive oil and place the skewers on the grill with the cover closed. Cook for 3-4 minutes then rotate the skewers and cook for another 3-4 minutes or until salmon flakes easily with a fork
Sprinkle skewers with fresh chopped parsley if desired. Serve with homemade or store-bought tzatziki sauce.
Ingredients
1/4 cup olive oil
2 cloves garlic, chopped
2 Tbsp fresh parsley, chopped
1 Tbsp white wine vinegar
2 tsp fresh thyme, chopped
1/2 tsp ground cumin
1/2 tsp kosher salt
1/4 tsp red chili flakes
1.5 lbs salmon, skin removed, cut into 1 - 1 1/2 inch cubes
1 small zucchini, sliced into thin rounds
1 large yellow summer squash, sliced thin
1 small red onion, cut into square pieces
1 cup grape tomatoes (16 tomatoes)
1/2 cup tzatziki sauce
Nutrition Information
Calories: 490
Protein: 37 g
Carbohydrate: 8 g
Dietary Fiber: 2.5 g
Total Sugars: 4 g
Total Fat: 7 g
Saturated Fat: 7 g
Sodium: 260 g

Simply seasoned and grilled. Flaked in a creamy pasta. Marinated with a little heat.
This versatile fish is a chef's dream.