Serves: 4
Prep: 30 minutes Cook: 45 minutes
Honey Garlic Chipotle Grilled Salmon Filets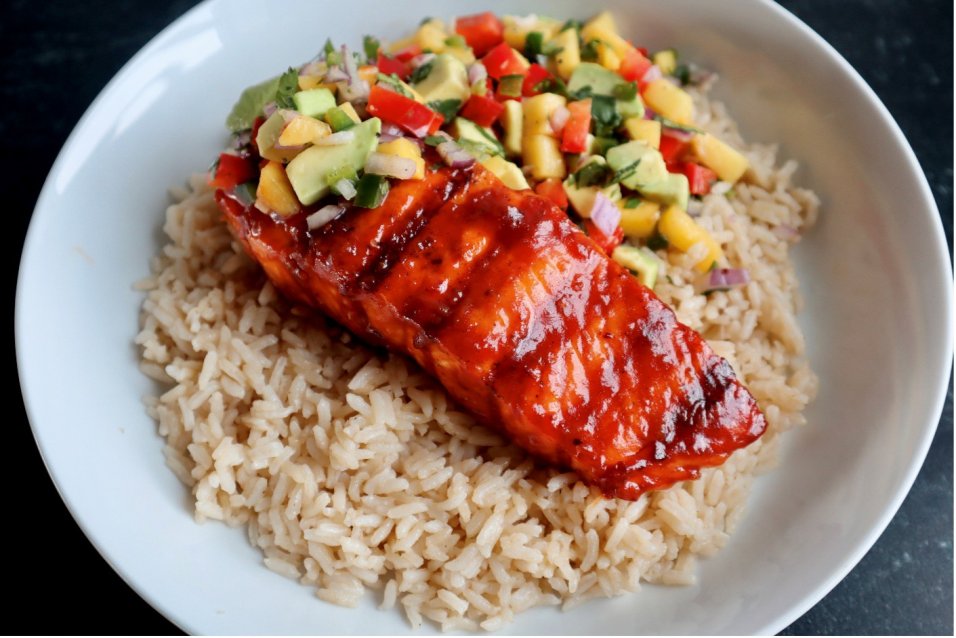 Directions
Pre-heat the grill over high heat.
In a medium sized bowl, combine all ingredients for the mango salsa (mango, avocado, red onion, red pepper, jalapeno, cilantro, lime juice, salt, black pepper). Set aside.
In a small pot, add the butter (2 Tbsp) for the honey garlic chipotle glaze.
Add the garlic and let cook for 30 seconds.
Add the ketchup, honey, brown sugar, chipotle in adobo and apple cider vinegar. Bring to a simmer and let simmer for 2-3 minutes until combined.
While sauce is simmering, rinse the jasmine rice until water runs close to clear.
In a pot over medium high heat, add the butter (1 Tbsp), jasmine rice, salt and pepper. Toast for 2-3 minutes, stirring often. Add the coconut milk and water and stir once. Bring to a simmer and cover. Lower heat to low and simmer for 17 minutes. Turn off the heat and leave the top on for 5 minutes. Remove the lid and fluff with a fork.
For the salmon, drizzle with olive oil and season with salt and pepper. Place the salmon, skin side down on the grill. Grill for 3-4 minuets until skin is crispy. Flip salmon on its side and grill for 2-3 minutes. Repeat on all sides.
Remove salmon from the grill and glaze immediately with honey garlic chipotle glaze. Place fluffed coconut rice on a large plate and top with glazed salmon and mango avocado salsa.
Ingredients
2 Tbsp butter
6 cloves garlic, grated or peeled
1/4 cup ketchup
2 Tbsp honey
2 Tbsp brown sugar
3 Tbsp chipotle in adobe sauce
1 tsp apple cider vinegar
4 each salmon filets, skin on, 4 oz
1 tsp salt
1/2 tsp black pepper, ground
1 Tbsp olive oil
1/2 cup mango, diced
1/2 cup avocado, diced
1/4 cup red onion, diced
1/4 cup red pepper, diced
1 each jalapeno, diced
2 Tbsp cilantro, chopped
1 each lime juice
1/2 tsp salt
1/4 tsp black pepper
1 Tbsp butter
2 cups Jasmine rice
1/2 tsp salt
1/4 tsp black pepper, ground
1 cup coconut milk, full fat
1 1/4 cup water or vegetable broth
Nutrition Information
690: Calories
28 g: Protein
34 g: Total Fat
13 g: Saturated Fat
0 g: Trans Fat
85 mg: Cholesterol
1350 mg: Sodium
67 g: Total Carbohydrate
2 g: Dietary Fiber
23 g: Total Sugars

Simply seasoned and grilled. Flaked in a creamy pasta. Marinated with a little heat.
This versatile fish is a chef's dream.