Serves: 4
Prep: 30 minutes Cook: 10 minutes
Miso Gochujang Pineapple Glazed Salmon Filets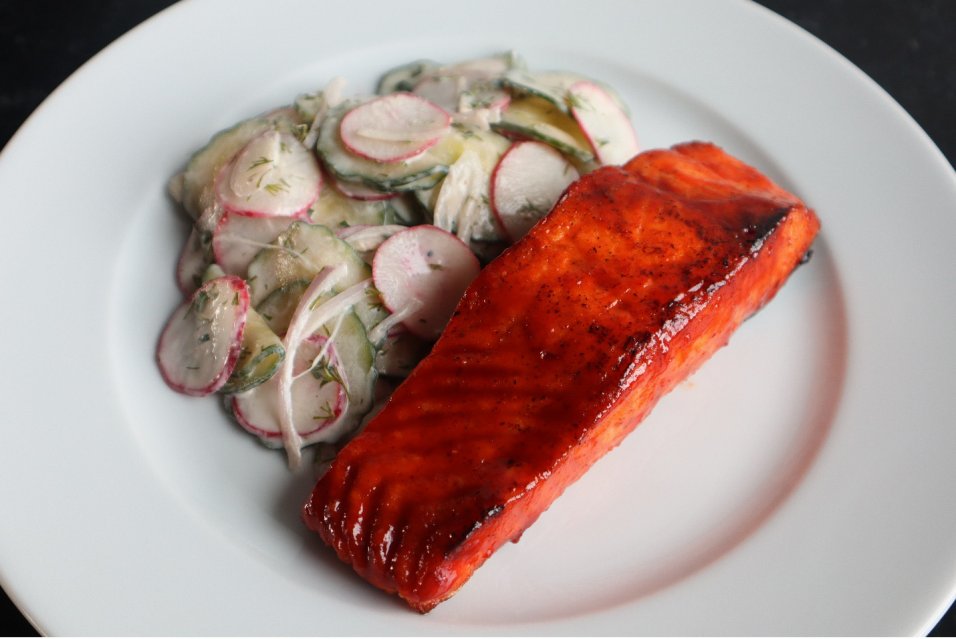 Directions
In a medium sized bowl, mix together ingredients for the Cucumber Radish Salad (cucumber, radish, shallots, yogurt, lemon juice, 1 Tbsp olive oil, dill, chives, Kosher salt and ¼ tsp black pepper). Set aside.
In a small bowl, whisk together ingredients for the Miso Gochujang Pineapple Glaze (pineapple juice, Gochujang paste, red miso, honey, brown sugar and red pepper chili flakes).
Place the glaze in a small pot and bring to a simmer. Simmer for 10-15 minutes until mixture has thickened. Set aside.
While glaze is simmering, season salmon filets with salt and pepper.
In a large stainless steel pan over high heat, add olive oil.
Place salmon filets skin side down and sear for 3-5 minutes until skin is crispy.
Flip salmon on its side, and sear for 1-2 minutes until golden brown. Repeat on all sides.
Remove salmon from the pan and immediately glaze with Miso Gochujang Pineapple Glaze.
Serve salmon filets with Cucumber Radish Salad.
Ingredients
1 each English Cucumber, thinly sliced
8 each radishes, thinly sliced
2 each shallots, julienned
1/2 cup Greek yogurt
1 each lemon juice
1 Tbsp olive oil
1/4 cup fresh dill, chopped
2 Tbsp fresh chives, chopped
1/2 tsp kosher salt
1/4 tsp black pepper, ground
6 oz pineapple juice
1/4 cup gochujang paste
1 tsp red miso
3 Tbsp honey
3 Tbsp brown sugar
1 tsp red pepper chili flakes
4 each salon filets, skin on, 4 oz
1 tsp salt
1/2 tsp black pepper
1 Tbsp olive oil
Nutrition Information
Calories: 480
Protein: 28 g
Total Fat: 24 g
Saturated Fat: 5 g
Trans Fat: 0 g
Cholesterol: 65 mg
Sodium: 1750 mg
Total Carbohydrate: 36 g
Dietary Fiber: 2 g
Total Sugars: 31 g

Simply seasoned and grilled. Flaked in a creamy pasta. Marinated with a little heat.
This versatile fish is a chef's dream.