Serves: 4
Prep: 15 minutes Cook: 40 minutes
Miso Salmon Coconut Rice Bowl
Every layer of this salmon bowl is like a flavor party in your mouth. Salmon glazed with a savory miso soy sauce sits over fluffy coconut rice topped with colorful veggies and flavorful toppings like sesame seeds and avocado. This bowl provides an ideal balance of macronutrients. It's packed with healthy fats from salmon and avocado, plenty of protein, antioxidants, and fiber from the veggies. It's easy to meal prep this for an easy lunch or dinner on a weeknight.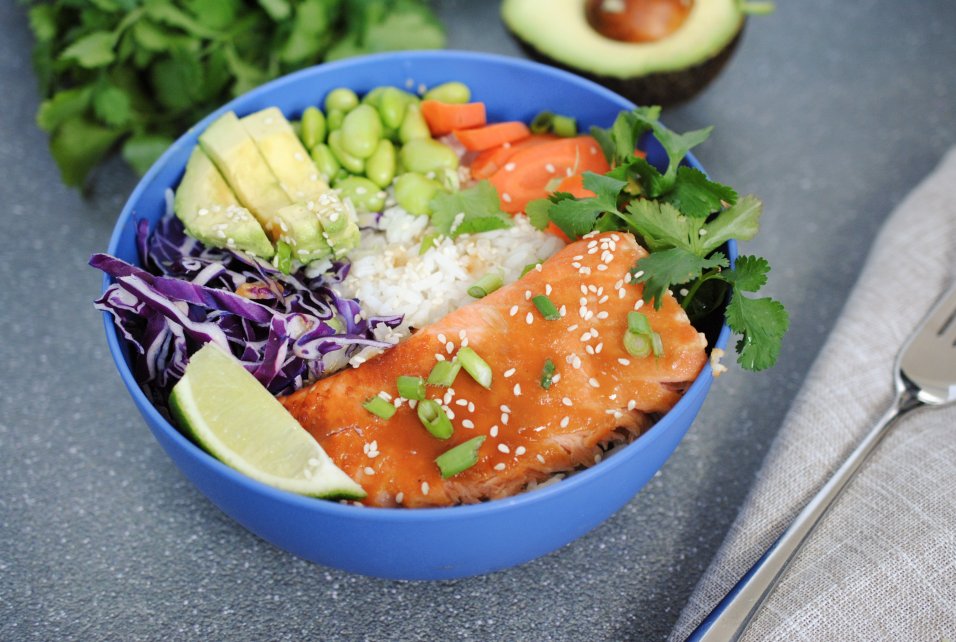 Directions
Preheat an oven to 300 degrees F. Line a baking sheet with parchment paper. Pat the salmon dry and spread the filets out evenly on the baking sheet. In a small bowl whisk together miso paste, soy sauce, rice vinegar and brown sugar. Brush each salmon filet along the top and sides with the miso marinade. Let side for 15-20 minutes to marinate.
Meanwhile, cook the coconut rice. In a medium saucepan, add the rice, coconut milk, water, sugar, and salt and stir well. Bring to a boil then cover and the reduce the heat to simmer. Set the cook time according to the rice package directions, about 30 minutes for most jasmine rice. Remove from the heat when rice is tender and the liquid is absorbed. Fluff with a fork.
Put the salmon in the oven on a middle rack. Cook the salmon in the oven for 20 minutes, or until it is almost cooked through, then broil for 1-2 minutes more until the top is lightly golden.
Assemble the bowls. Add the coconut rice, then top each with 1/4 of the avocado, cabbage, edamame, sesame seeds, green onion, and carrots. Garnish with cilantro and a squeeze of the lime wedge if desired.
Ingredients
20 oz salmon (4 individual filets)
2 tablespoons white miso paste
2 tablespoons reduced sodium soy sauce
1 tablespoon rice vinegar
2 teaspoons brown sugar
1 1/2 cups jasmine rice (white or brown)
1 1/2 cups canned coconut milk
1/2 cup water
1/2 teaspoon sugar
1/4 teaspoon salt
1 medium ripe avocado
2 cups sliced/shredded red cabbage
1 cup cooked edamame
2 tablespoons black (or white) sesame seeds
2 green onions, thinly sliced
2 large carrots, sliced or spiraled
4 lime wedges
Cilantro for garnish if desired
Nutrition Information
Calories: 650
Protein: 42 g
Carbohydrate: 60 g
Fiber: 9 g
Total sugar: 7 g
Total fat: 35 g
Saturated fat: 16 g
Sodium: 435 mg

Simply seasoned and grilled. Flaked in a creamy pasta. Marinated with a little heat.
This versatile fish is a chef's dream.