Serves: 2
Prep: 10 minutes Cook: 15 minutes
Oven-Roasted Panko-Crusted Salmon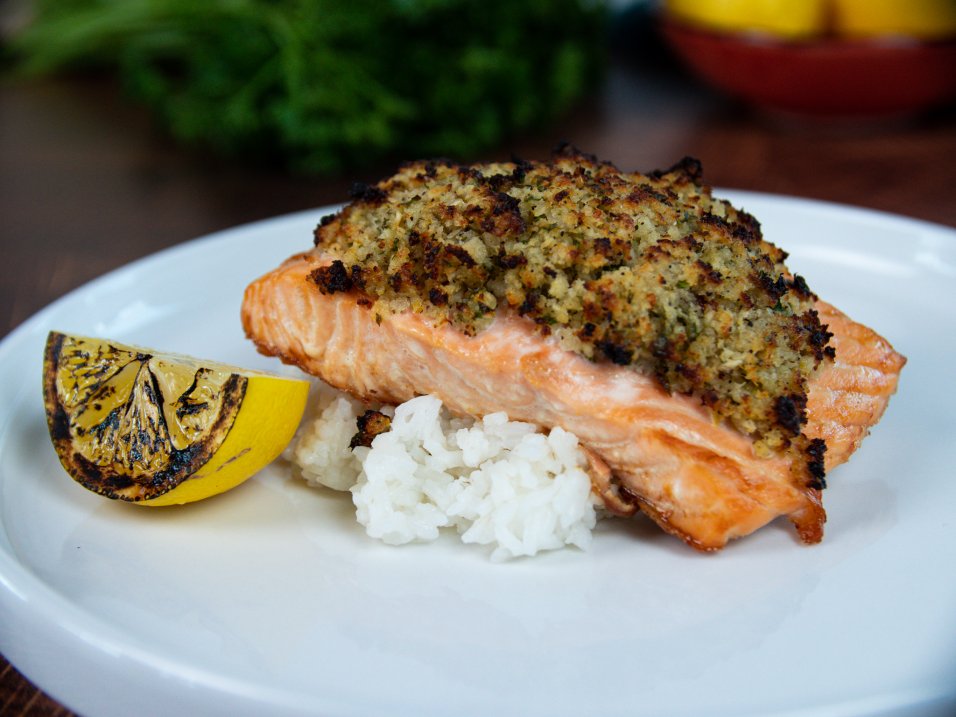 Directions
Place salmon on a baking sheet lined with greased parchment paper. Pat salmon dry with paper towels.
In a bowl, mix Panko, lemon zest, parmesan cheese, garlic, red pepper flakes, parsley, salt, and pepper. Once combined, mix in melted butter.
Top the salmon generously with the Panko mixture in a thin layer.
Bake for 10-12 minutes in the oven, until the thickest part reaches 145F, and there is some bounce when you squeeze the sides of the fish.
Serve with a side of rice pilaf or accompanied vegetable and finish with lemon juice. Enjoy.
Ingredients
2 6 oz portions, 12 oz AquaBounty salmon fillets, skin off
1/3 cup panko breadcrumbs
1/3 cup parmesan cheese, grated
1 each lemons, zest and juice
1 Tbsp parsley, finely chopped
1 Tbsp garlic, minced
1/4 tsp red pepper flakes
2 Tbsp butter, melted
2 tsp kosher salt
1/2 tsp black pepper

Simply seasoned and grilled. Flaked in a creamy pasta. Marinated with a little heat.
This versatile fish is a chef's dream.