Serves: 4
Prep: 5 minutes Cook: 15 minutes
Panko Crusted Salmon
Panko and parmesan add a crunchy, slightly cheesy topping to the perfectly cooked salmon for wonderful texture and memorable flavor. For beautifully browned panko crumbs, pre-toast the crumbs in a hot, dry skillet and stir frequently.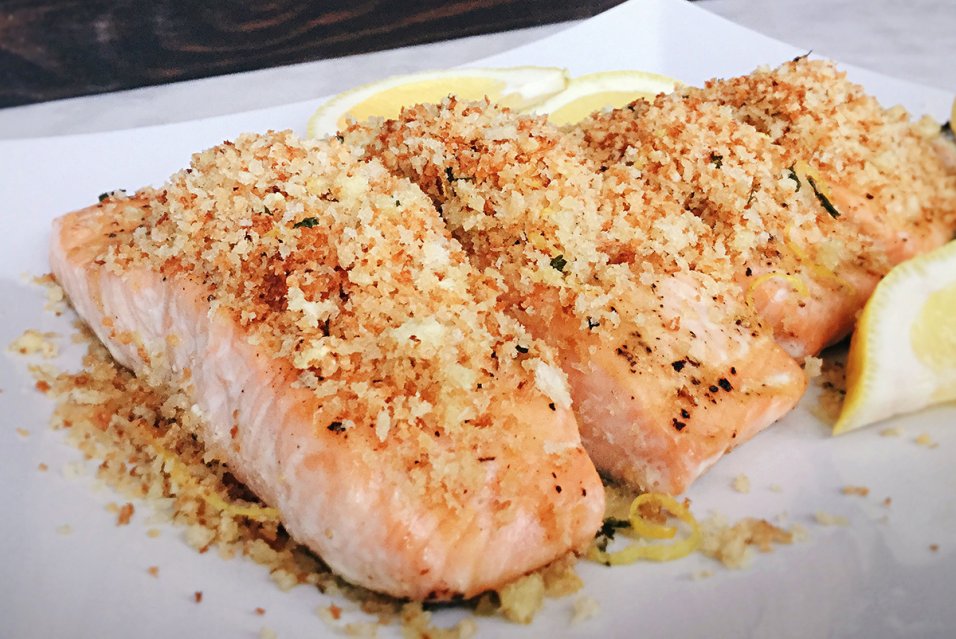 Directions
In a small bowl combine panko, Parmesan, parsley, lemon zest, salt and olive oil.
Place salmon fillets on a foil lined sheet pan that has been coated with non-stick spray. Top each portion evenly with the panko mixture.
Bake in the oven for 12-15 minutes, until salmon flakes easily with a fork, and topping is lightly browned.
Ingredients
1/2 cup panko breadcrumbs
2 Tbsp parmesan cheese, grated
1 Tbsp parsley, fresh, chopped
1 tsp lemon zest
1/2 tsp salt
2 Tbsp olive oil
10 oz salmon (4, 5-oz fillets)
Nutrition Information
(per serving)
Calories: 401
Protein: 31 g
Carbohydrate: 8 g
Dietary Fiber: 1 g
Total Sugars: 0 g
Total Fat: 27 g
Saturated Fat: 5.5 g
Total Omega-3 FA: 3.8 g
Sodium : 482 mg

Simply seasoned and grilled. Flaked in a creamy pasta. Marinated with a little heat.
This versatile fish is a chef's dream.