Serves: 4
Prep: 10 Cook: 15
Roasted Tomato & Feta Salmon
If you like a dish bursting with flavor this is the salmon recipe for you. Juicy roasted tomatoes, briny olives and salty creamy feta are roasted alongside tender flaky salmon. The best part – it's done in less than 30 minutes from start to finish.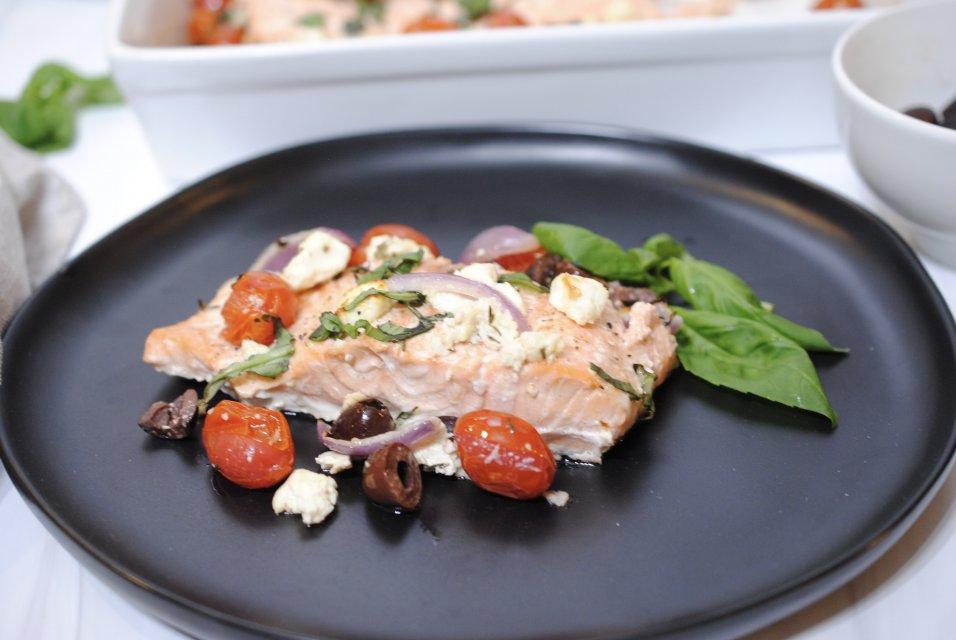 Directions
Preheat an oven to 400 degrees F.
Add the grape tomatoes, olives, red onion, feta, garlic, 1 tablespoon olive oil, oregano, and thyme to a 2-quart baking dish (you can also use a sheet pan lined with foil). Toss the ingredients until they are mixed well and coated with oil.
Spread veggies out along the perimeter of the baking dish, making room for the salmon in the center of the baking dish. Pat the salmon dry with a paper towel then place it skin side down in the middle of the tomato mixture. Sprinkle salmon with a touch of sea salt and fresh black pepper. Drizzle the remaining 1 teaspoon olive oil over the top of the salmon.
Bake for 15 minutes, or until salmon is cooked through and flaked with a fork. Top with chopped fresh basil.
To serve, spoon the veggies over the salmon, along with any juices left in the dish. This dish is delicious served with a side of salad greens, roasted potatoes, rice, or quinoa.
Ingredients
1 lb filet atlantic salmon
2 cups (about 1 pint) grape tomatoes
1/2 cup red onion, cut into quarters
1/2 cup cubed feta cheese
1 Tbsp, plus 1 tsp olive oil, divided
3 sprigs fresh oregano, leaves chopped
3 sprigs fresh thyme
2 cloves fresh garlic, chopped
To taste Fresh black pepper
Optional garnish Fresh basil
Nutrition Information
Calories: 364
Protein: 27g
Carbohydrate: 6g
Dietary Fiber: 2g
Total Sugars: 3g
Total Fat: 25g
Saturated Fat: 7g
Calcium: 14%
Iron: 7%
Sodium: 420mg

Simply seasoned and grilled. Flaked in a creamy pasta. Marinated with a little heat.
This versatile fish is a chef's dream.