Serves: 4
Prep: 20 minutes Cook: 5 minutes
Salmon Burger with Garlic Dill Yogurt Sauce
Fresh salmon and herb burgers with a tangy garlicky yogurt sauce make the perfect summer cookout alternative to more traditional patties. These freeze well, so don't be afraid to make a double batch.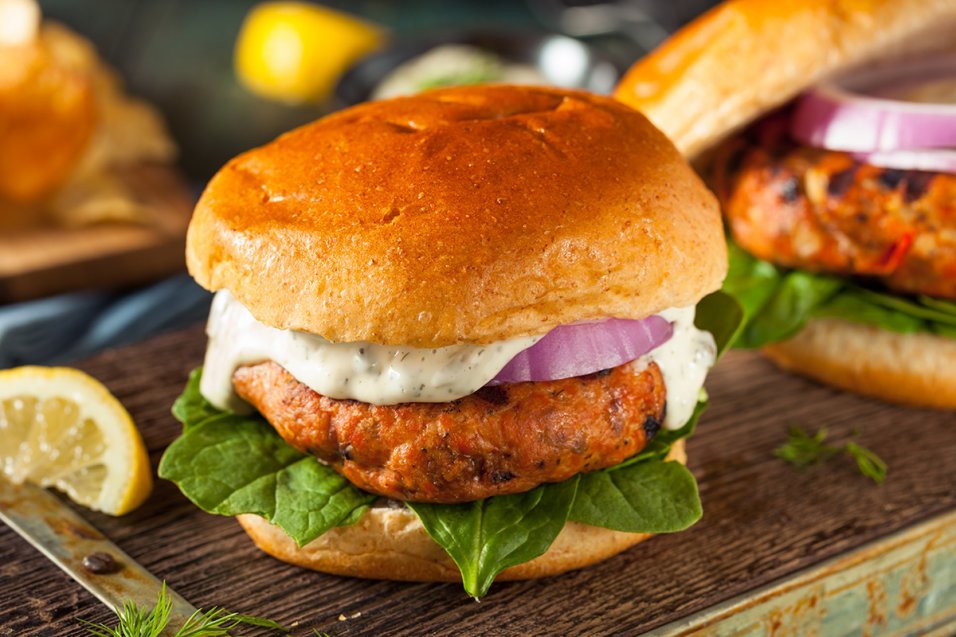 Directions
Add 1/4 of the chopped salmon plus the Dijon mustard to a food processor. Pulse until salmon forms a chunky paste.
Add egg, panko, green onion, dill (1 Tbsp), lemon juice, salt, and pepper to a large bowl and whisk together until combined. Add salmon paste and chopped salmon. Mix with hands and shape into 4 patties. Set aside on a plate and refrigerate while you prepare the yogurt garlic sauce.
Add garlic yogurt dill sauce ingredients (plain Greek yogurt, lemon juice, capers, 1 Tbsp dill, garlic) to the bowl of a food processor or a blender. Pulse until smooth.
To cook the salmon burgers. Heat olive oil in a medium skillet over medium high heat. Cook about 2-3 minutes on each side, or until just cooked through. Be careful not to overcook.
Serve salmon burgers on brioche buns topped with yogurt sauce, with baby spinach and thinly sliced red onion. Instead of a bun, you may serve the burgers over greens or whole grains.
Ingredients
16 oz salmon fillet, skinned and finely chopped
2 tsp Dijon mustard
1 egg
1/3 cup panko breadcrumbs
2 green onions, chopped
2 Tbsp fresh dill, chopped
1 tablespoon fresh lemon juice
1/4 tsp salt
1/4 tsp pepper
1 Tbsp olive oil
4 brioche buns
1/2 cup plain Greek yogurt (.2% or whole)
1 Tbsp lemon juice
1 Tbsp capers, liquid drained
1 tsp garlic, chopped
Nutrition Information
(Per serving – includes bun)
Calories: 598
Protein: 36 g
Carbohydrate: 42 g
Dietary Fiber: 2 g
Total Sugars: 9 g
Total Fat: 31 g
Saturated Fat: 7.5 g
Total Omega-3 FA: 3.3 g
Sodium: 721 mg

Simply seasoned and grilled. Flaked in a creamy pasta. Marinated with a little heat.
This versatile fish is a chef's dream.