Serves: 4
Prep: 5 minutes Cook: 30 minutes
Salmon Niçoise Salad
A fun twist on a French classic, this salad is bursting with flavor and balanced for a very satisfying lunch or dinner. Leave off the dressing until right before serving and you can prep all of the ingredients ahead of time to make for satisfying lunches or dinners throughout the week.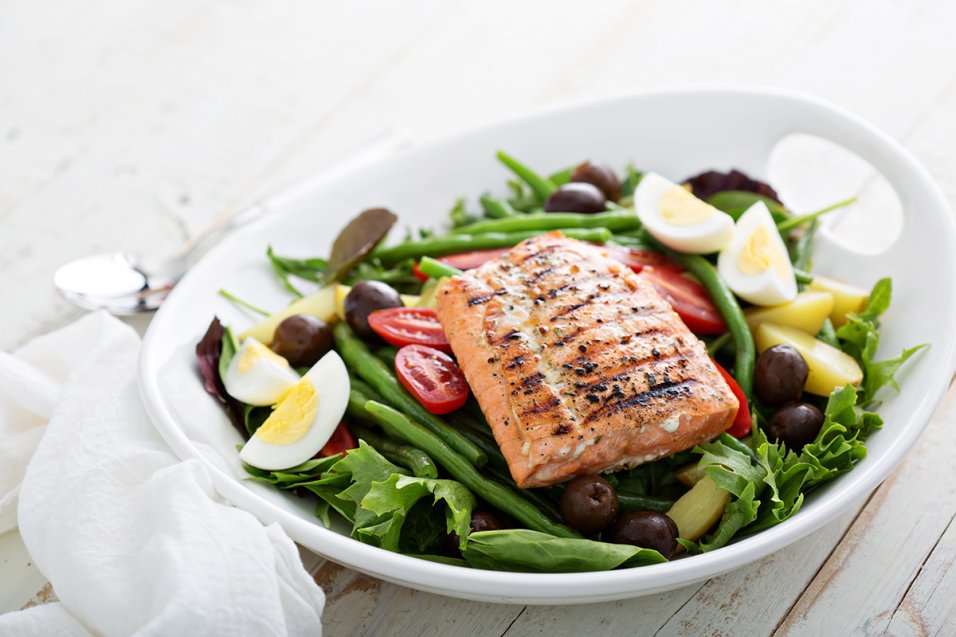 Directions
Preheat oven to 325 degrees. Pat salmon dry with paper towel. Place salmon on top of the lemon slices on a baking sheet lined with parchment paper. Season with 1/2 teaspoon salt and 1/4 teaspoon black pepper. Bake salmon for 15 minutes, or until cooked to desired doneness. Let cool slightly then break salmon into large flakes.
Meanwhile, add potatoes to a medium saucepan. Add cool water to cover by at least 1-inch. Bring water to a boil, season with 1/2 teaspoon salt, and cook until tender, 15-20 minutes. Transfer potatoes to a plate with a slotted spoon.
Bring the water in the pot to a boil again. Add green beans and cook until tender but crisp, about 2 minutes. Drain beans and run under cold water to stop cooking. Set aside.
Add eggs to the saucepan and cover with cold water by at least 1-inch. Bring water to a boil for 1 minute, then remove from heat, cover saucepan and let sit in the water for 9 minutes. Drain and run under cool water. Peel eggs; cut in quarters lengthwise.
For the dressing, add all ingredients (olive oil, dijon mustard, lemon juice, honey, 1/4 tsp salt, 1/4 tsp black pepper) to a jar or container with a lid. Shake until well combined.
Arrange lettuce evenly into shallow salad bowls. Drizzle with 1/4 of the dressing. Top each bed of lettuce with 1/4 portion of salmon, potatoes, haricot verts, egg quarters, olives, and capers. Drizzle remaining dressing over the ingredients.
Ingredients
16 oz (1lb) salmon
1 1/4 tsp salt, divided
1/2 tsp black pepper
8 oz (1/2 lb) baby potatoes (Yukon gold or new potatoes)
4 large eggs
8 oz green beans
1/2 cup niçoise (or kalamata) olives, pitted
4 tsp capers
6 cups spring lettuce mix
1/4 cup olive oil
1 Tbsp dijon mustard
3 Tbsp fresh lemon juice
1/2 tsp honey
Nutrition Information
Calories: 540
Protein: 32 g
Carbohydrate: 19 g
Dietary Fiber: 4.5 g
Total Sugars: 3 g
Total Fat: 37 g
Saturated Fat: 8 g
Total Omega-3 FA: 3.3 g
Sodium: 731 mg

Simply seasoned and grilled. Flaked in a creamy pasta. Marinated with a little heat.
This versatile fish is a chef's dream.