Serves: 4
Prep: 20 minutes Cook: 15 minutes
Salmon Soba Noodle Soup with Shitake Mushrooms
A hot, comforting soup that is light, healthy and complete. Flavorful both, protein and vegetables mix masterfully with the miso and ginger in this simple soup with a punch of flavor. Can't get any better!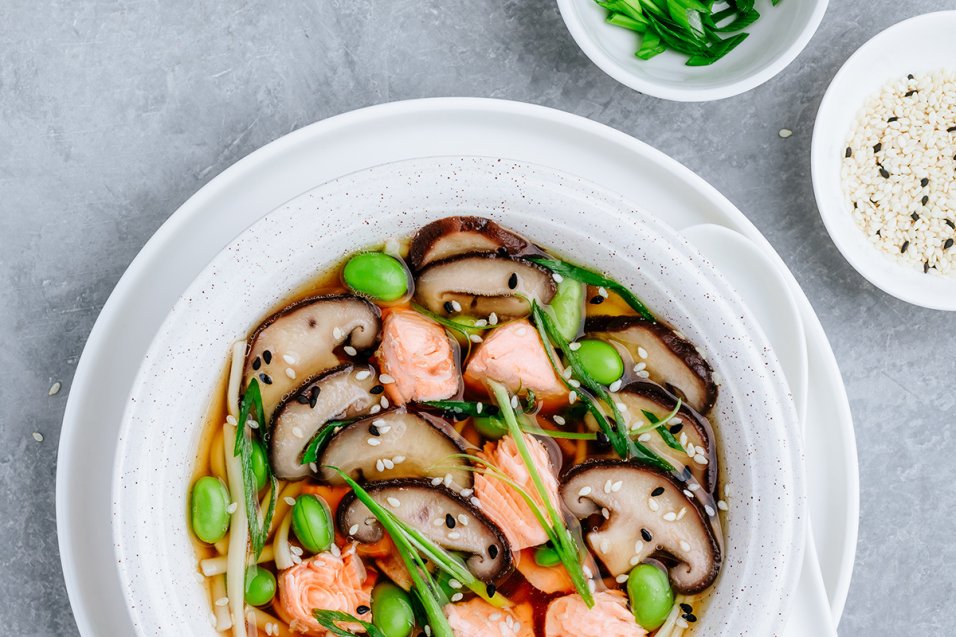 Directions
Cook soba noodles according to package directions. Drain and set aside.
Heat broth in a large saucepan over medium heat. Add miso paste, ginger, garlic and soy sauce. Simmer 5 minutes to combine flavors.
Cut salmon into 1-inch pieces. Add the salmon and mushrooms into the simmering broth. Cover and cook over medium heat for 5 minutes. Uncover, add the edamame beans and continue to simmer 1-2 minutes.
Divide the cooked soba noodles into 4 serving bowls. Carefully ladle the salmon, vegetables and broth over the top of the noodles. Garnish each bowl with 1 Tbsp. slivered green onions and ¼ tsp. sesame seeds.
Ingredients
6 oz soba noodles
6 cups vegetable broth
3 Tbsp miso paste
2 Tbsp ginger, grated
2 cloves garlic, minced
1 Tbsp soy sauce
12 oz salmon fillet, bones and skin removed
5 oz shiitake mushrooms, thinly sliced
1 cup edamame beans, shelled
4 Tbsp green onions, slivered
1 tsp sesame seeds
Nutrition Information
(per serving)
Calories: 441
Protein: 29 g
Carbohydrate: 47 g
Dietary Fiber: 7 g
Total Sugars: 7 g
Total Fat: 15.5 g
Saturated Fat: 3 g
Total Omega-3 FA: 2.6 g
Sodium: 990 mg

Simply seasoned and grilled. Flaked in a creamy pasta. Marinated with a little heat.
This versatile fish is a chef's dream.