Serves: 4
Prep: 10 minutes Cook: 15 minutes
Salmon Tostadas with Mango Avocado Salsa
Salmon gets a kick from a flavorful chipotle chili and lime spice rub that is balanced by a refreshing mango avocado salsa. The crema adds just the right touch of creaminess. With plenty of brain and heart healthy omega 3 fats, your body and taste buds will be telling you, eat more of this! These make an easy weeknight dinner and are impressive enough to serve up for a Cinco De Mayo celebration!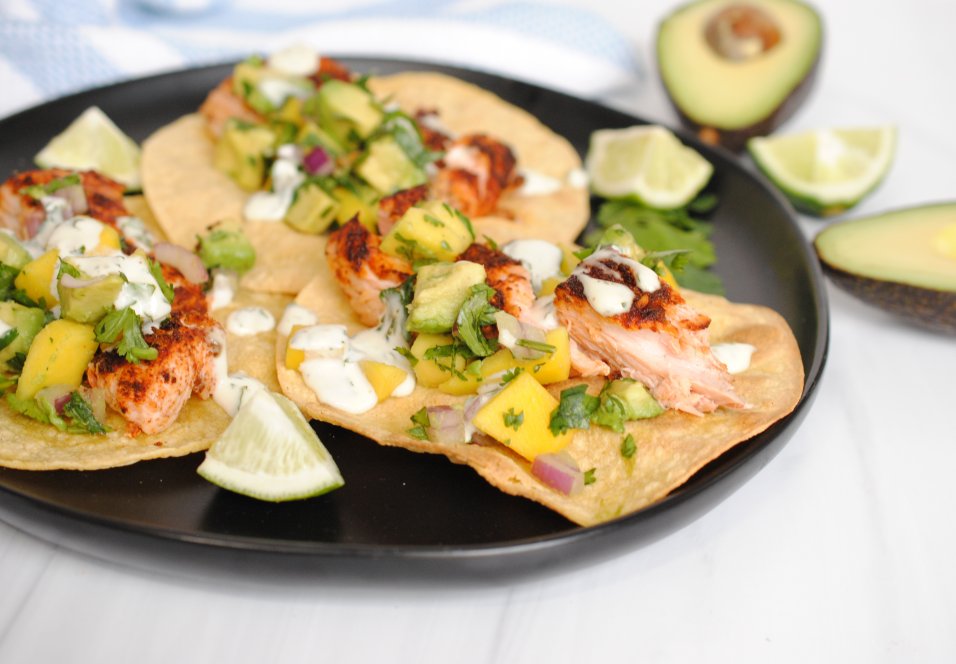 Directions
Preheat an oven to 400 degrees F. Mix together the chili powder, cumin, lime zest, and salt in a small bowl. Pat the salmon dry and place in a medium baking dish or tray lined with parchment. Rub the salmon with the olive oil and lime juice. Rub the chili powder seasoning mix over the top and sides of the salmon. Bake for 10-15 minutes or until the salmon is cooked through and flakes easily with a fork.
Poke each tortilla several times with a fork. Pour 2 tablespoons of olive oil in a small bowl and using a brush rub each tortilla lightly with 1 teaspoon olive oil, coating both sides. Lay the tortillas on a baking sheet lined with foil and toast until lightly browned and crispy.
While the salmon is cooking, mix the ingredients for the Avocado Mango Salsa together in a small bowl (mango, avocado, 1/3 cup cilantro, red onion and the 2 Tbsp lime juice). In another small bowl, mix together the ingredients for the Lime Cilantro Crema (mayonnaise, yogurt, 2 Tbsp chopped cilantro, 1 Tbsp lime juice, ½ tsp salt and pepper).
To assemble the tostadas, spread a layer of crema on each tortilla, then top with flaked salmon and the mango salsa. Drizzle with more crema and chopped cilantro if desired.
Ingredients
1 1/2 tsp chipotle chili powder
1 tsp ground cumin
1 tsp lime zest
½ tsp kosher salt
1 1/4 lbs salmon filet
1 Tbsp lime juice
2 Tbsp olive oil
8 small corn or flour tortillas
1 ripe mango, peeled and diced (about 1 cup)
1 medium ripe avocado, peeled and diced
1/3 cup chopped cilantro
3 Tbsp chopped red onion
2 Tbsp fresh lime juice
2 Tbsp mayonnaise
2 Tbsp 2% Greek yogurt
2 Tbsp chopped cilantro
1 Tbsp fresh lime juice
¼ tsp kosher salt
dash black pepper
Nutrition Information
Calories: 669
Protein: 50 g
Carbohydrate: 40 g
Dietary Fiber: 7 g
Total Sugars: 20 g
Total Fat: 35 g
Saturated Fat: 9 g
Sodium: 600 mg

Simply seasoned and grilled. Flaked in a creamy pasta. Marinated with a little heat.
This versatile fish is a chef's dream.