Serves: 4
Prep: 10 Cook: 35
Walnut Pesto Salmon
Salmon and walnuts are both excellent sources of omega 3 fatty acids. Having a good supply of those omega-3s helps our brain's ability to produce new brain cells, which research shows can improve mood and cognitive function. In this recipe, salmon is slow roasted to the perfect texture then topped with a flavorful herby pesto with toasted walnuts, basil, and parsley.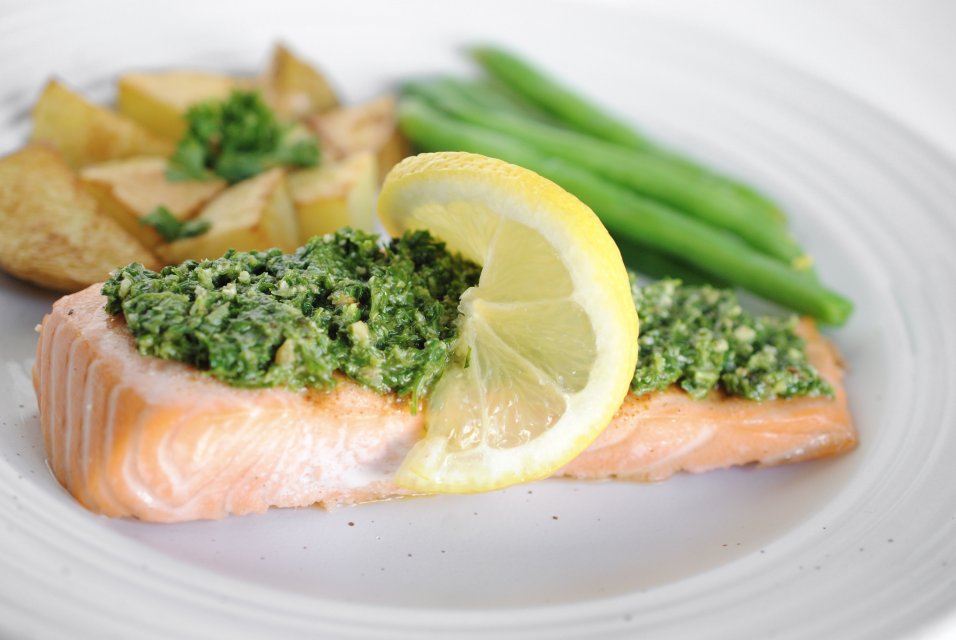 Directions
Preheat the oven to 275 degrees. Line a baking sheet with parchment paper.
Pat the salmon dry with a paper towel and place it skin side down on the baking sheet. Rub the top and sides with salt, pepper, paprika, and lemon zest. Drizzle lemon juice and olive oil over the top. Bake for 25 minutes, or until the salmon is tender and flakes with a fork. Cooking time may vary depending on the thickness of the filet.
While salmon cooks make the pesto. Add the basil, parsley, walnuts, parmesan, lemon juice, garlic, and salt to a food processor and pulse until finely chopped but not completely blended to smooth. Drizzle in olive oil and pulse again until incorporated.
Spread the pesto over the top of the cooked salmon. Garnish with lemon slices if desired.
Serve alongside a serving of vegetables and a whole grain for the ultimate brain-boosting meal.
Ingredients
1 lb salmon filet
1/4 - 1/2 tsp kosher salt
1/2 tsp fresh ground black pepper
1/4 tsp paprika
1 tsp lemon zest
2 tsp lemon juice
1 tbsp olive oil
1-1/2 cups fresh basil
1/2 cup fresh parsley
1/4 cup chopped walnuts, toasted
1/4 cup grated parmesan cheese
1/4 cup fresh lemon juice
2 tsp chopped garlic
1/2 tsp kosher salt
1/3 cup olive oil
Nutrition Information
Calories: 351
Protein: 27 g
Carbohydrate: 3.52 g
Dietary Fiber: 1 g
Total Sugars: 0 g
Saturated Fat: 5 g
Calcium: 13%

Simply seasoned and grilled. Flaked in a creamy pasta. Marinated with a little heat.
This versatile fish is a chef's dream.