Serves: 4
Prep: 10 minutes Cook: 20 minutes
Sesame Glazed Salmon and Rice Bowl
Salmon with a sweet sesame glaze is balanced by fluffy rice and garlicky greens. This satisfying heart healthy dinner comes together in 30 minutes or less.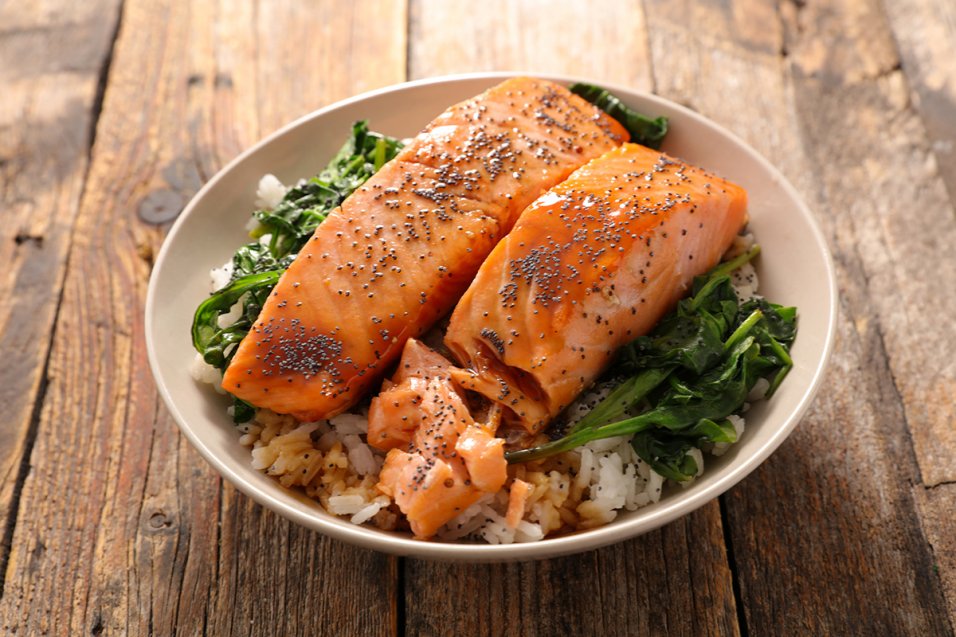 Directions
Preheat oven to 400 degrees. Line a baking sheet with parchment paper.
In a small saucepan whisk together honey, soy sauce, sesame oil, ginger, and garlic. Bring to a boil then turn down heat to simmer. Cook for 5 minutes or until slightly thickened. Remove from heat. In a small bowl mix water and corn starch until corn starch is dissolved. Add to sauce and stir until dissolved and sauce is thickened.
Arrange salmon skin side down (if salmon has skin) on the baking sheet and brush with half of the sesame sauce.
Bake for 10 minutes, then brush with remaining sauce. Bake another 3-5 minutes or until salmon is cooked through and flakes with a fork.
While salmon is baking, heat a medium skillet over medium high heat. Add olive oil and garlic to the pan and cook until garlic is fragrant, about 30 seconds. Add kale or spinach along with 1/4 cup water or stock. Sauté until just tender, about 5 minutes.
Add rice to the bottom of the bowl, then top with kale and salmon. Garnish with sesame seeds.
Ingredients
4 cups cooked jasmine rice (white or brown)
1/4 cup honey
2 Tbsp soy sauce
1 tsp toasted sesame oil
1 tsp grated ginger
1 tsp minced garlic
1 tsp warm water
1 tsp corn starch
20 oz salmon (4, 5-oz fillets) skin-on or skinless
6 cups kale or other leafy greens such as spinach
1 tsp garlic
2 tsp olive oil
For garnish sesame seeds
Nutrition Information
(Per serving)
Calories: 591
Protein: 31 g
Carbohydrate: 71 g
Dietary Fiber: 5 g
Total Sugars: 17 g
Total Fat: 20 g
Saturated Fat: 4 g
Total Omega-3 FA: 3.2 g
Sodium: 362 mg

Simply seasoned and grilled. Flaked in a creamy pasta. Marinated with a little heat.
This versatile fish is a chef's dream.