Serves: 6
Prep: 10 minutes Cook: 55 minutes
Slow Cooked Citrus Pomegranate Salmon
If you haven't slow roasted salmon yet, you're missing out. This method not only yields restaurant quality, melt-in-your mouth salmon, but it's nearly impossible to overcook. In this dish we've paired bright winter citrus with sweet crunchy pomegranate arils, fresh herbs, and just a touch of brown sugar for a festive take on this beautiful and nutritious fish. You can make this dish with a large side of salmon or individual filets. A perfect presentation for a holiday table, but easy enough to prepare on a weeknight.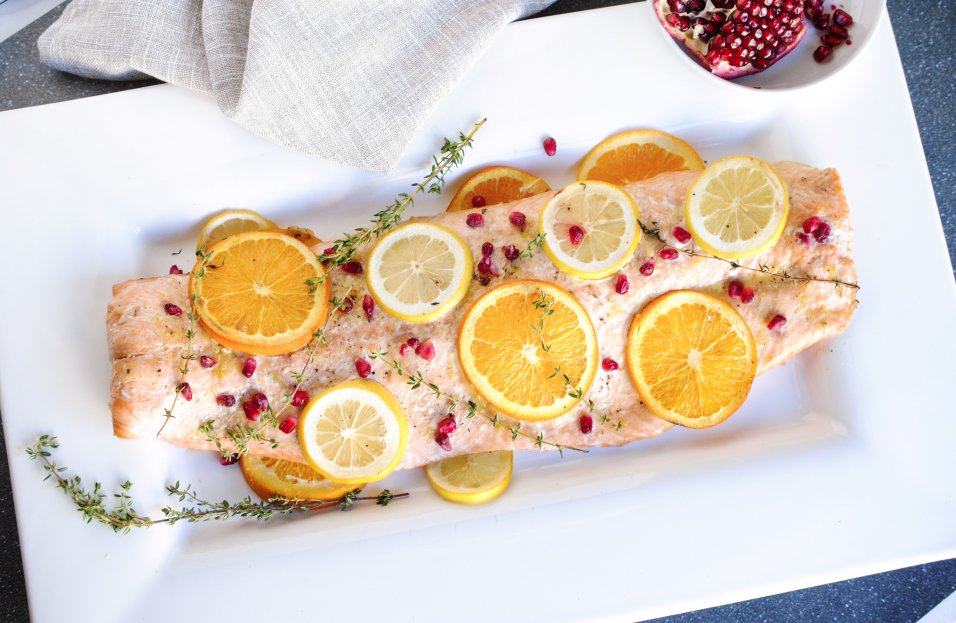 Directions
Line a baking sheet with parchment paper. Preheat the oven to 275 degrees F.
Layer half of the lemon and orange slices, and two sprigs of thyme on the baking sheet. Pat salmon dry with a paper towel and place it skin side down over the citrus.
Mix the brown sugar with 1 tablespoon of the olive oil, lemon zest, salt, and pepper. Rub the brown sugar mixture evenly over the top of the salmon filet until it's coated. Arrange the remaining citrus slices on top of the salmon. Top evenly with fresh thyme sprigs, then drizzle with the remaining 2 tablespoons of olive oil.
Bake salmon until cooked through, about 30 - 45 minutes depending on the thickness of the filet. Salmon will flake easily with a fork when cooked, however, flesh may still be very slightly opaque.
Ingredients
2 - 2.5 lb salmon filet
1 naval or blood orange, thinly sliced
1 lemon, thinly sliced
1 Tbsp brown sugar
3 Tbsp olive oil, divided
2 tsp grated lemon zest
1/2 tsp sea salt
1/2 tsp fresh pepper
1/4 cup pomegranate arils, plus more for serving
5 sprigs fresh thyme
Nutrition Information
Calories: 340
Protein: 31 g
Carbohydrate: 3 g
Dietary Fiber: 0 g
Total Sugars: 2 g
Total Fat: 24 g
Saturated Fat: 5 g
Sodium: 136 mg
Vitamin C: 17% DV
Vitamin D: 62% DV
Selenium: 52% DV
Calcium: 2% DV

Simply seasoned and grilled. Flaked in a creamy pasta. Marinated with a little heat.
This versatile fish is a chef's dream.