Serves: 6-8 as an appetizer
Prep: 20 minutes Cook: 0 minutes
Smoked Salmon Crostini
Here's a simple appetizer that you can throw together in no time. These delicate crostini capture that awesome lox and cream cheese flavor, lightened with lemon and chives…a delectable bite-sized treat!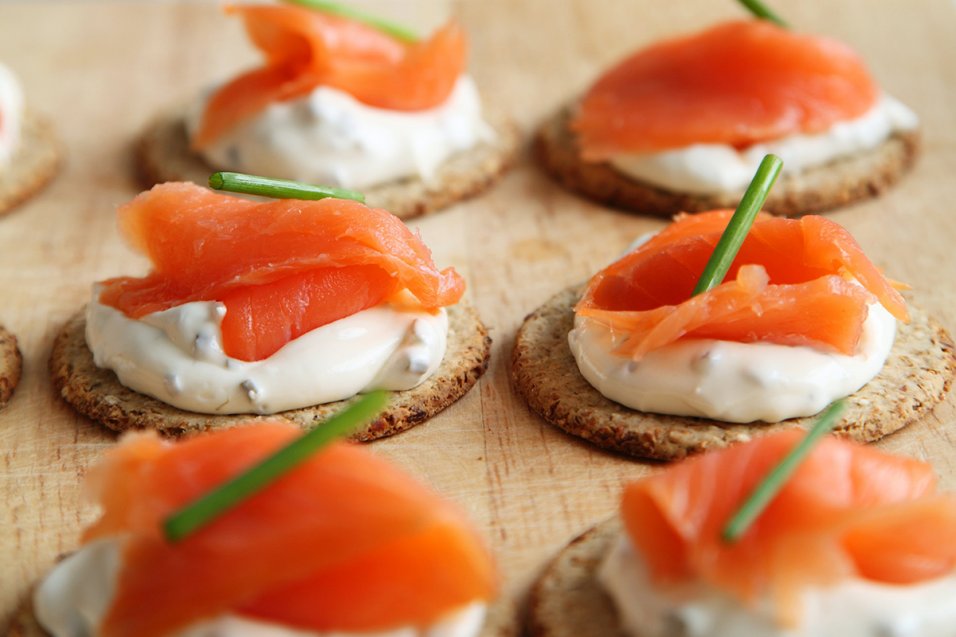 Directions
Combine yogurt and softened cream cheese until smooth and creamy. Stir in the chives, capers and lemon juice until well blended. Season with salt and pepper to taste.
Cut the smoked salmon into pieces sized to fit the wafers.
Top each wafer with 2 tsp cream mixture. Top with a piece of smoked salmon and garnish with a sprig of chive.
Ingredients
24 whole wheat wafer rounds, or toasted baguette slices
3/4 cup Greek yogurt
6 Tbsp cream cheese, softened
1 Tbsp chives, fresh, chopped
1 Tbsp capers, chopped
1 tsp lemon juice
4 oz smoked salmon
chives for garnish
Nutrition Information
(per serving)
Calories: 113
Protein: 6 g
Carbohydrate: 7 g
Dietary Fiber: .5 g
Total Sugars: 3 g
Total Fat: 6.5 g
Saturated Fat: 3.5 g
Total Omega-3 FA: .13 g
Sodium: 261 mg

Simply seasoned and grilled. Flaked in a creamy pasta. Marinated with a little heat.
This versatile fish is a chef's dream.