Serves: 4-6
Prep: 10 minutes Cook: 0 minutes
Smoked Salmon Pinwheels
The classic combination of savory smoked salmon with a chive and dill cream cheese spread shines in these easy-to-make pinwheels. Perfect for a delicious healthy snack or party appetizer.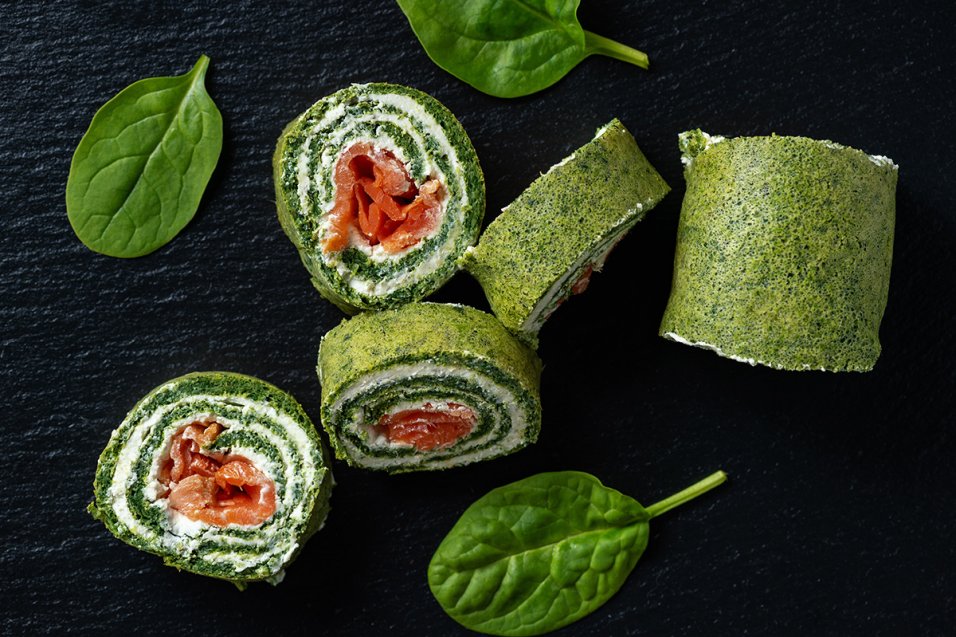 Directions
In a small bowl, stir cream cheese, yogurt, lemon juice and zest, dill, chives, and black pepper until smooth.
Evenly spread the cream cheese mixture on each wrap. Leave 1/2-inch edge around the wrap on one side and extend the cream cheese to the edge of the other side to help seal the wrap.
Top the cream cheese with a layer of baby spinach, then a layer of smoked salmon.
Roll the tortillas tightly, folding in the two sides as you roll. Trim off the the end pieces. Slice each roll into 6 pieces.
Ingredients
2 large spinach wraps
1/2 cup cream cheese
1/4 cup plain greek yogurt
1 Tbsp chopped fresh dill
2 tsp chopped fresh chives
To taste ground black pepper
2 cups chopped fresh baby spinach
4 oz smoked salmon
Nutrition Information
(Per serving – based on 4 servings)
Calories: 227
Protein: 11 g
Carbohydrate: 15 g
Dietary Fiber: 1 g
Total Sugars: 2.5 g
Total Fat: 13.5 g
Saturated Fat: 6.5 g
Total Omega-3 FA: .3 g
Sodium: 500 mg

Simply seasoned and grilled. Flaked in a creamy pasta. Marinated with a little heat.
This versatile fish is a chef's dream.