Serves: 4
Prep: 20 minutes Cook: 0 minutes
Smoked Salmon Sandwich with Herbed Cream Cheese and Ginger Relish
This version of the classic salmon tea sandwich offers a bit more! A bagel hosts the delightful salmon, cream cheese with chives, pickled ginger and some red onion to brighten up the sandwich.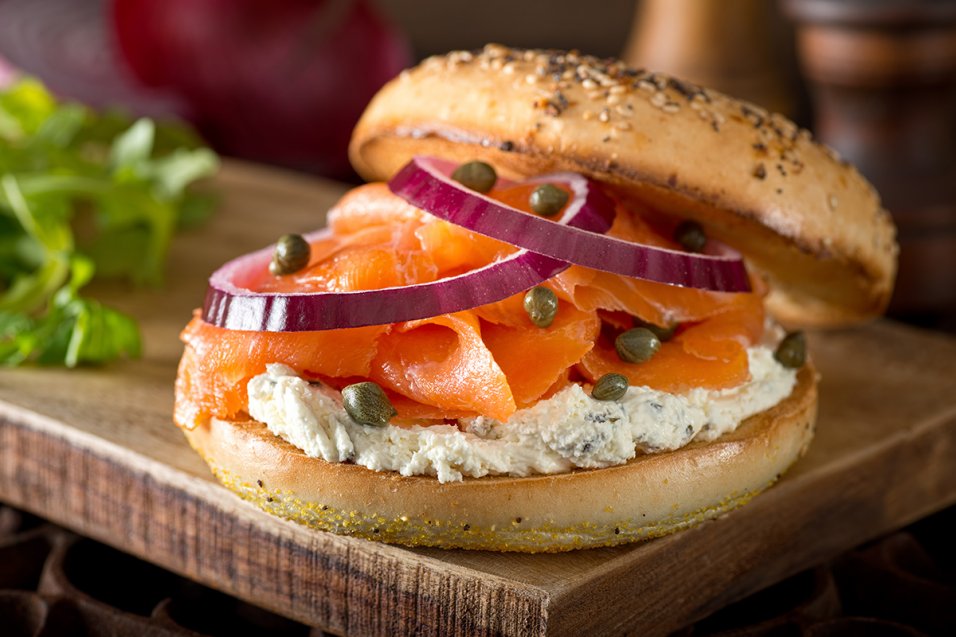 Directions
Mix cream cheese with chives until well combined. Set aside.
To prepare the ginger relish, stir the cucumber, red onion, pickled ginger and salt together. Set aside.
Split and lightly toast bagels.
On bottom half of each bagel, spread ¼ of the herbed cream cheese. Top with ¼ of the ginger relish and 1 oz. smoked salmon. Garnish each sandwich with a slice of red onion and ¼ tsp. capers. Place top half of bagel on top of sandwich.
Ingredients
4 oz cream cheese, softened
1 Tbsp chives, chopped
1/2 cup cucumber, peeled, seeded, diced 1/4"
2 Tbsp red onion, diced 1/4"
2 Tbsp pickled ginger, minced
1/4 tsp salt
4 bagels
4 oz smoked salmon, thinly sliced
4 red onion slices
1 tsp capers
Nutrition Information
(per serving)
Calories: 388
Protein: 17 g
Carbohydrate: 52 g
Dietary Fiber: 4.5 g
Total Sugars: 8 g
Total Fat: 12.5 g
Saturated Fat: 5.5 g
Total Omega-3 FA: .30 g
Sodium: 910 mg

Simply seasoned and grilled. Flaked in a creamy pasta. Marinated with a little heat.
This versatile fish is a chef's dream.