Serves: 4
Prep: 10 minutes Cook: 20 minutes
Spicy Coconut Curry Salmon
Skip the takeout and opt for this delicious Thai inspired dish you can make in 30 minutes at home. Salmon is coated with a quick red coconut curry sauce, onions, peppers and served over rice. Add more veggies by pairing it with a side of greens!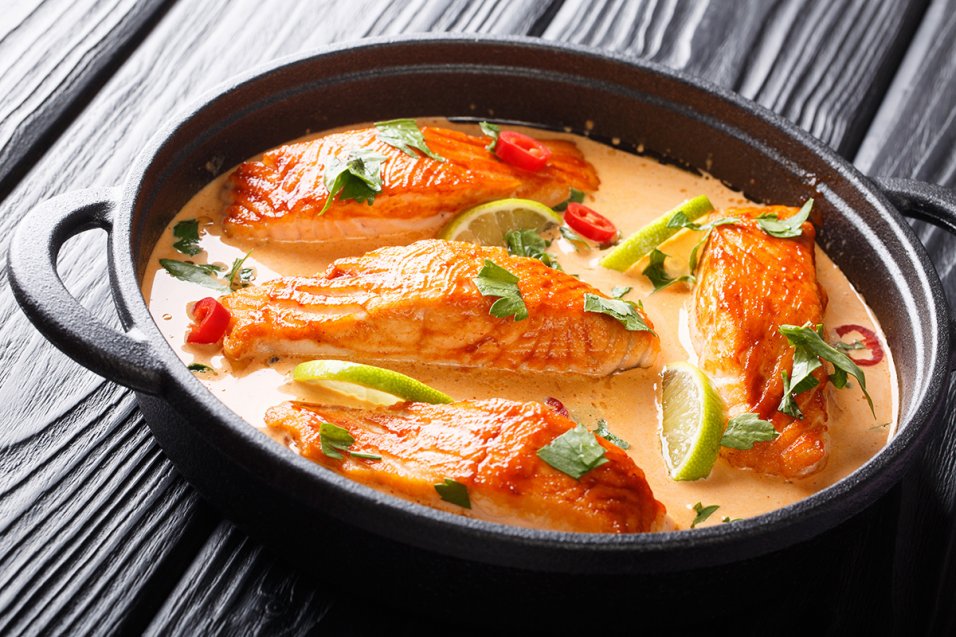 Directions
Pat salmon dry with a paper towel. Season salmon fillets with 1/2 teaspoon salt and 1/4 teaspoon black pepper.
Heat 2 tablespoons olive oil and 1 teaspoon butter over medium high heat. Add salmon fillets skin side down. Sear salmon until it's cooked halfway up the sides, about 3-4 minutes depending on the thickness of the fillets. Flip, then cook on the other side until cooked through, about 3 minutes more. Remove salmon and set aside.
Add remaining 2 tablespoons olive oil to the pan. Add onion and bell pepper. Cook until just softened, about 5 minutes. Add garlic and ginger. Cook until fragrant, being careful not to let garlic burn, about 30 seconds. Add the curry paste and brown sugar, stirring well to incorporate.
Add coconut milk, fish sauce, and lime juice. Stir to combine. Bring to a simmer and cook for 10 minutes. Add salmon to sauce, spooning some sauce over the top. Remove from heat. Serve salmon and sauce over jasmine rice. Garnish with lime wedges and Thai basil.
Ingredients
2 cups cooked jasmine rice (white or brown)
20 oz salmon (4, 5-oz fillets)
1 cup chopped yellow onion
1 red bell pepper, thinly sliced
4 Tbsp olive oil, divided
1 tsp unsalted butter
2 tsp chopped garlic
1 tsp fresh chopped ginger
2 Tbsp Thai red curry paste (store-bought or homemade)
1 tsp brown sugar
14-ounce can coconut milk
1 Tbsp fish sauce (or soy sauce)
1-2 Tbsp fresh lime juice
1 lime, cut into quarters
For garnish Thai basil
Nutrition Information
(Per serving)
Calories: 670
Protein: 28 g
Carbohydrate: 30 g
Dietary Fiber: 2 g
Total Sugars: 4 g
Total Fat: 48 g
Saturated Fat: 22 g
Total Omega-3 FA: 3 g
Sodium: 551 mg

Simply seasoned and grilled. Flaked in a creamy pasta. Marinated with a little heat.
This versatile fish is a chef's dream.