Serves: 4-6
Prep: 10 minutes Cook: 0 minutes
Spicy Smoked Salmon Spread
Smoked salmon blended with cream cheese, yogurt, and just the right amount of smoky and spicy flavors makes this an addictive dip for parties or anytime!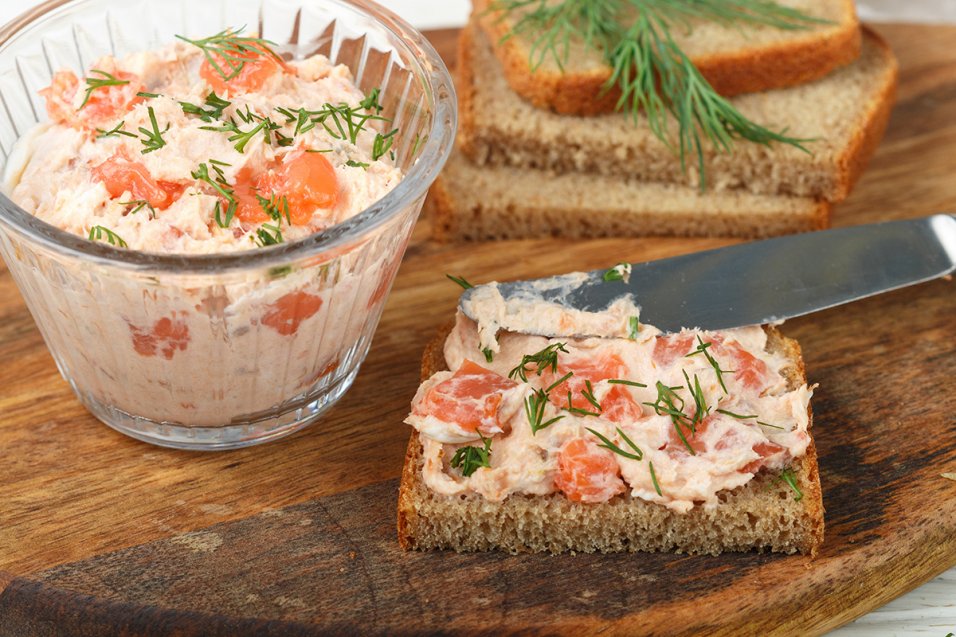 Directions
Add 3 ounces salmon, cream cheese, yogurt, mayonnaise, dill, lemon zest, paprika, and horseradish to the bowl of a food processor. Pulse until combined, about 1 minute. Remove from processor and stir in remaining pieces of chopped salmon.
Garnish with additional dill and lemon zest if desired.
Serve with toast points, crackers, or crudités.
Store in an air-tight container in the refrigerator for up to 3 days.
Ingredients
4 oz smoked salmon, chopped, divided
1/2 cup cream cheese, room
1/4 cup plain Greek yogurt
1/4 cup mayonnaise
2 Tbsp fresh chopped dill plus more for garnish
1 Tbsp lemon juice
1/2 Tbsp lemon zest
1/4 tsp smoked paprika
1/2 Tbsp prepared horseradish, drained
Nutrition Information
(Per serving – based on 4 servings)
Calories: 162
Protein: 5.5 g
Carbohydrate: 2 g
Dietary Fiber: 0 g
Total Sugars: 1.5 g
Total Fat: 15 g
Saturated Fat: 5 g
Total Omega-3 FA: .6 g
Sodium: 274 mg

Simply seasoned and grilled. Flaked in a creamy pasta. Marinated with a little heat.
This versatile fish is a chef's dream.