Serves: 4
Prep: 25 minutes Cook: 30 minutes
Sweet Heat Glazed Salmon with Acorn Squash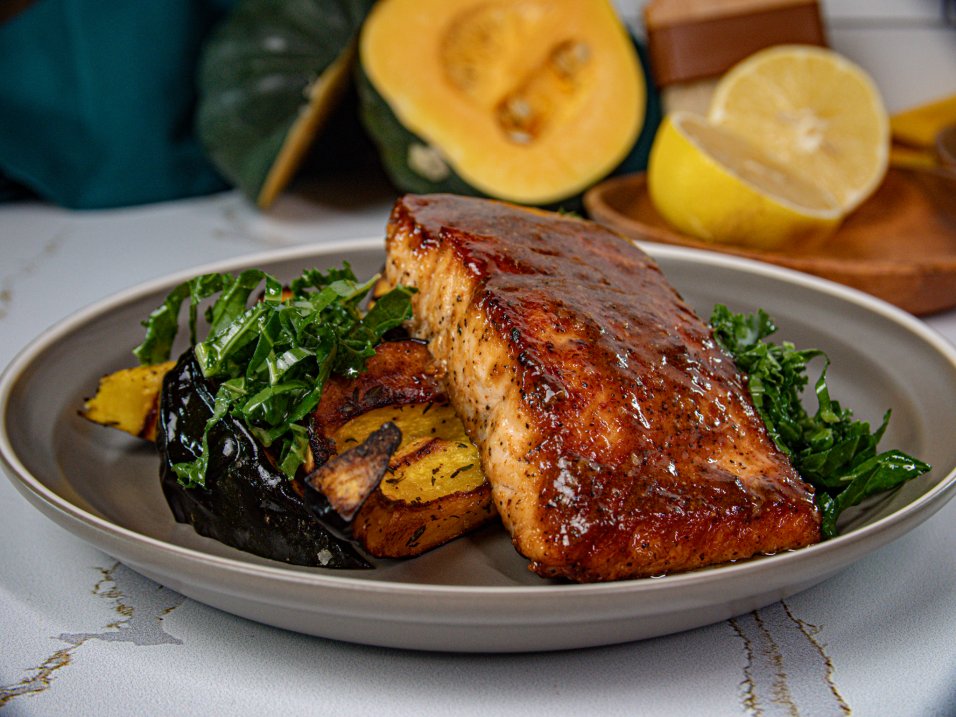 Directions
Toss the sliced acorn squash and red onions with fresh thyme and extra virgin olive oil and place on a lightly greased sheet tray lined with parchment. Roast in preheated oven for about 20-25 minutes, until soft and tender with slight charring on corners.
For the glaze, combine brown sugar, Dijon mustard, garlic powder, paprika, salt, and black pepper in a bowl. Set aside.
In a medium bowl, combine apple cider vinegar, lemon juice, Dijon mustard, salt, and pepper. Drizzle in extra virgin olive oil to create the vinaigrette. Toss with kale.
Heat a sauté pan over medium high heat. Pat salmon dry with a paper towel and season lightly. Add oil to the pan. Place salmon fillets down and sear until a crust has formed. Flip and brush top with sweet heat mixture. Cook until the internal temperature reaches 145F. Remove from pan and brush with sweet heat glaze.
To serve, spoon a bed of onions and squash on the bottom of the plate. Top with salmon and garnish with kale salad. Enjoy!
Ingredients
4, 6 oz portions AquaBounty salmon fillets (skin off)
1/4 cup brown sugar
2 Tbsp Dijon mustard
2 tsp garlic powder
1 tsp cayenne
1 tsp Worcestershire sauce
1 Tsbp lemon juice
1/2 tsp paprika
2 tsp kosher salt
1/2 tsp black pepper
1 each acorn squash, cut in wedges
1 each red onion, quartered
1 Tbsp thyme, fresh, chopped
1/4 cup extra virgin olive oil
2 cups kale, chiffonade
1/2 cup extra virgin olive oil
2 Tbsp apple cider vinegar
1 tsp lemon juice
1 tsp Dijon mustard

Simply seasoned and grilled. Flaked in a creamy pasta. Marinated with a little heat.
This versatile fish is a chef's dream.