Back to All Media
Feb 4, 2020
AquaBounty aims to raise 55,000 tonnes of genetically-raised salmon a year by 2028
Salmon farmer has big plans post 2020 commercial launch. From 160 to 55,000 tonnes in just eight years, if it has the right investment.
The GM salmon farmer has come a long way since 1989, with it set to harvest around 160 tonnes of salmon from its Indiana facilities this year. In a financial filing, AquaBounty – which is behind the outfit currently producing genetically engineered-fast growing salmon (AquAdvantage) –
is offering USD 10 million of shares.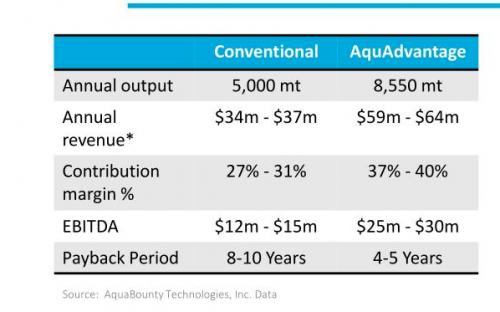 In a 
report for investors,
 it wrote that it intended to significantly scale operations and expand its existing production facility. It also had its eye on a "new large plant build-out in the US, Canada, and internationally utilising project-based finance and potential JV partners". The AquAdvantage USP is that it can grow faster, and AquaBounty says that its faster growth to harvest accelerates ROI in farm operations – which it says delivers 2x vs. conventional RAS salmon. 
Read the article
.